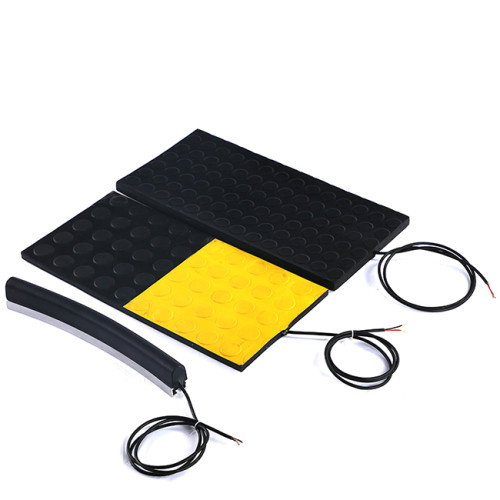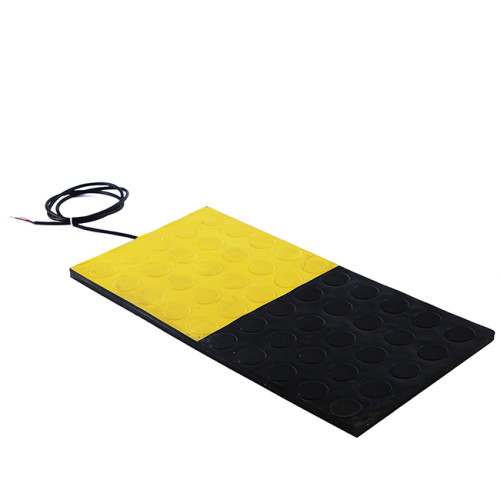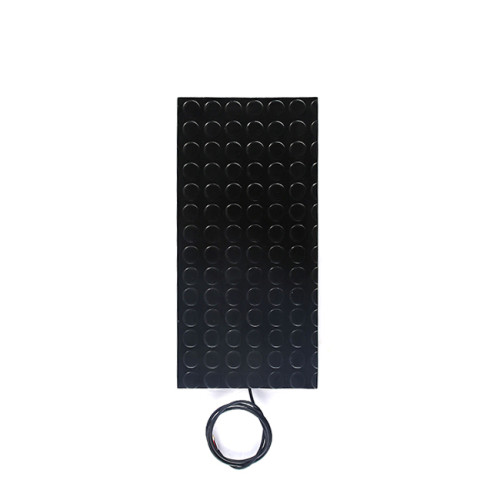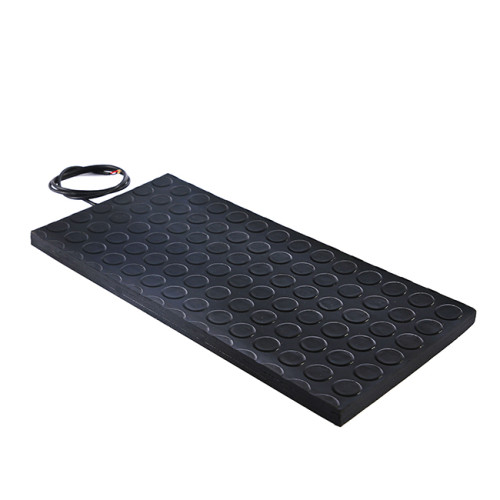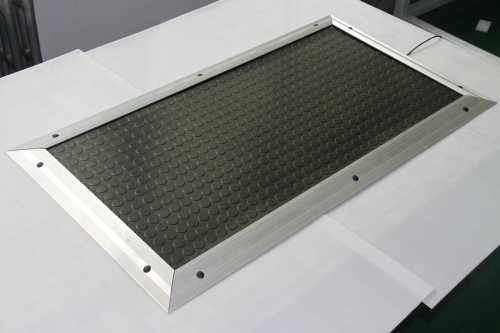 Safety mats can be used as area protection for hazardous areas.
Item specifics
Response time

18ms
Protection level

IP65
Edge length min/max

200mm/3000mm
Description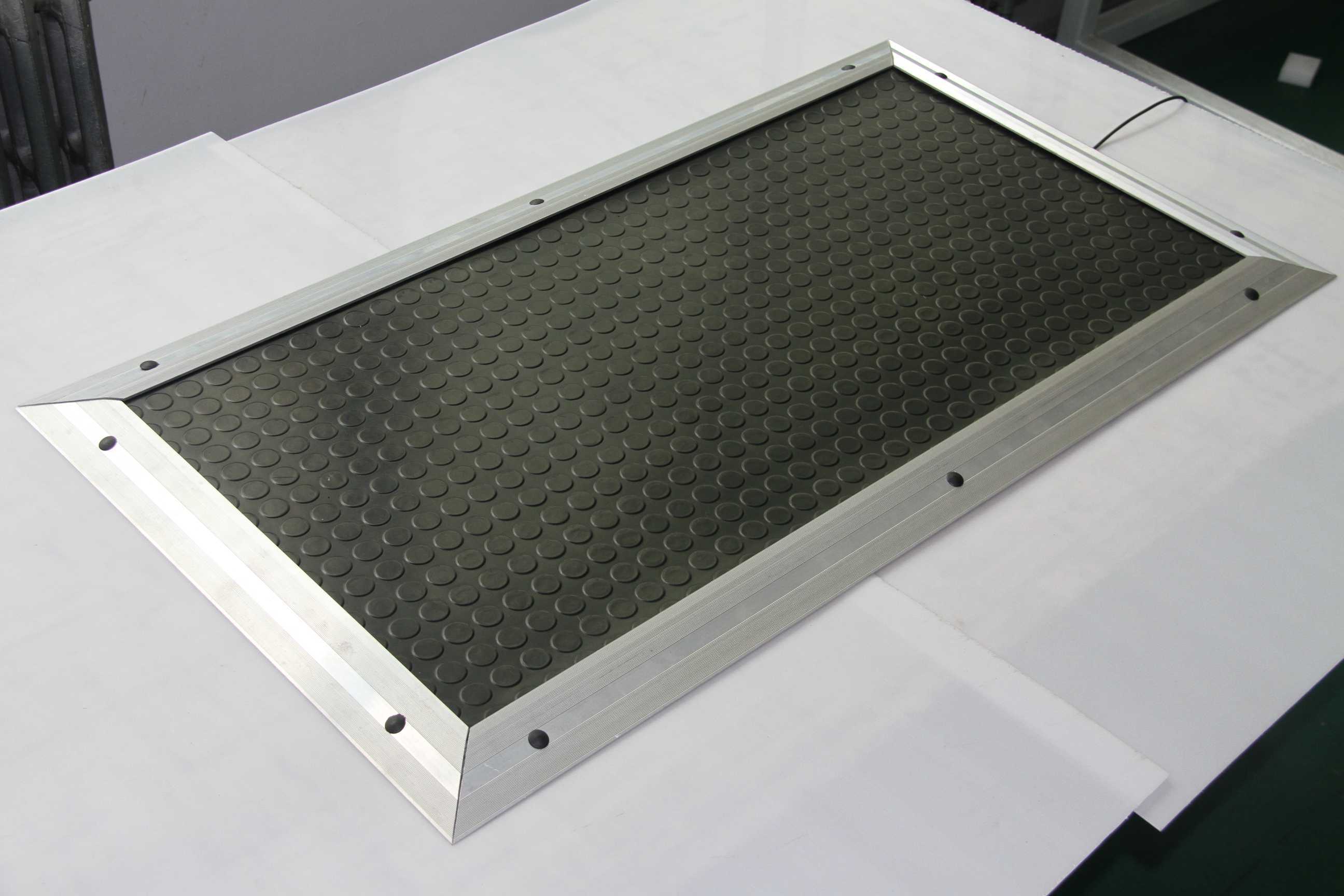 The Safety mat controller has high reliability: the automatic Safety mat controller is used with a 4-wire, normally open Safety mat to protect an area. At the same time, if the controller detects the disconnection or wrong connection of the Safety mat, it will send a stop signal. When used with 4-wire safety mats, these controllers can increase productivity while ensuring safety, and the operating area is always safe, visible and accessible.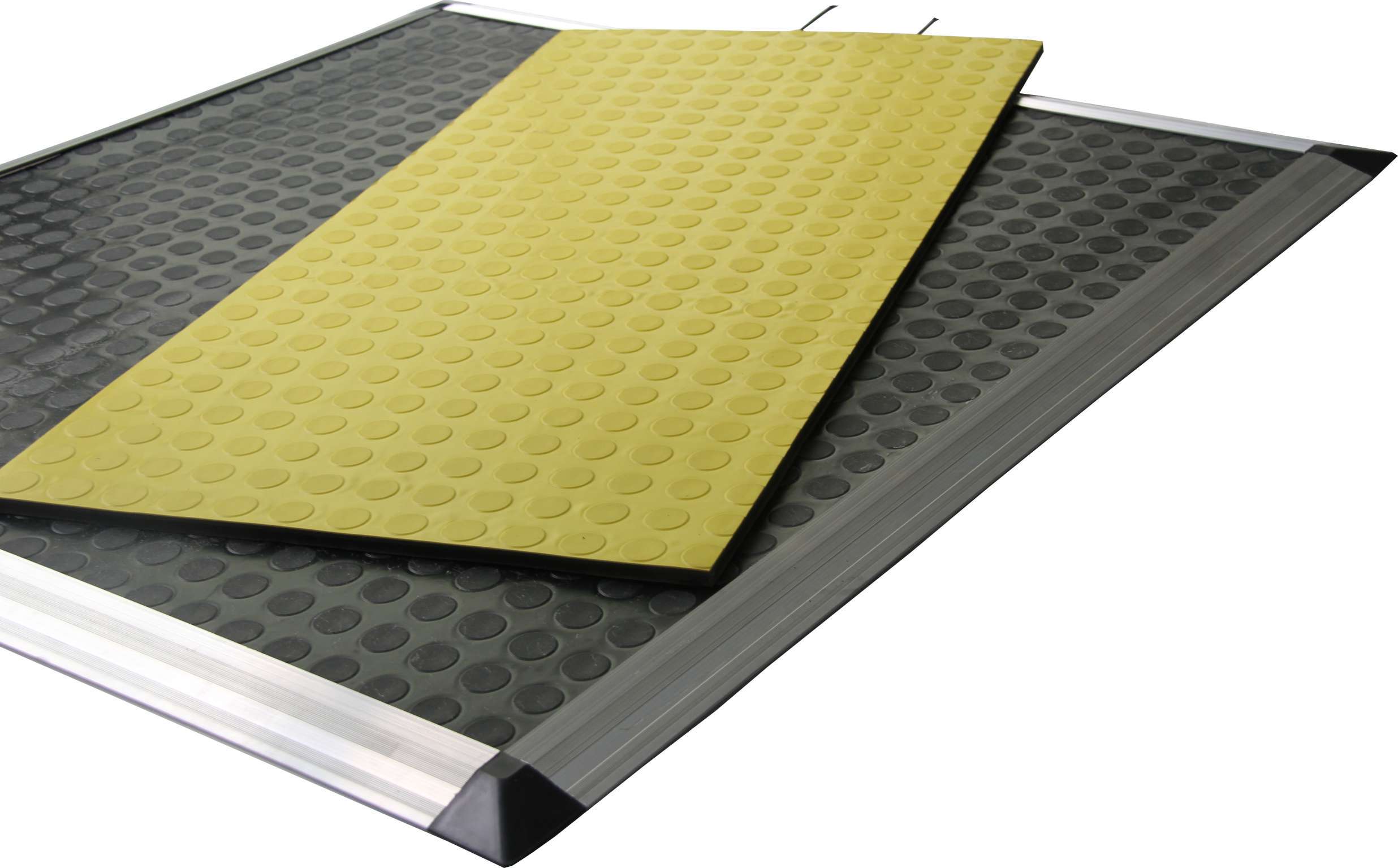 steps to distinguish industrial safety carpet
1) Looking at the material of the industrial safety carpet, the quality of the industrial safety carpet is the most important. The quality of the industrial safety carpet determines whether it can really play a role in safety protection during use.
2) In terms of performance, whether it plays a role in safety protection and whether the circuit design is reasonable.
3) The performance index of Industrial safety carpet, general safety carpet has good electrical resistivity, high tensile strength and tearing performance, high-quality abrasion resistance and corrosion resistance to various acid, alkali, salt and other chemicals.
4) Industrial safety carpet factory inspection, safety carpets will inevitably have some small defects in the production process. This requires a complete factory inspection process to further improve the safety carpets and require quality standards.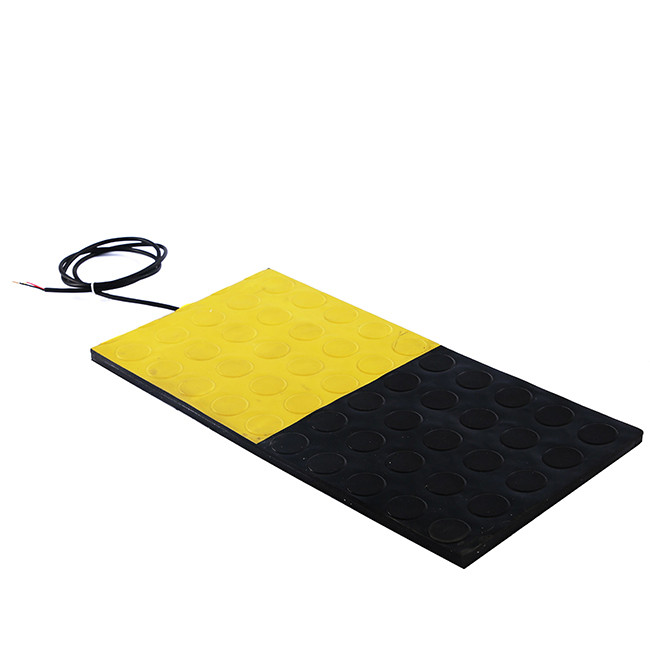 Test principle

EN1760-1,ISO13856-1

project

model

LS-PSM2

LS-PSM3

Detection method

Pressure sensing method

Trigger force

<20kg

Maximum allowable load (8 hours)

≤400N/cm²

≤800N/cm²

Mechanical life

>1,000,000 times

>3,000,000times

Safety carpet area

≤1.5㎡

Edge length min/max

200mm/3000mm

Packaging materials

PVC

NBR,CR

Surface protection layer

PVC

NBR,CR

Environmental conditions

status of use

+5℃--+55℃

-10℃--+65℃

Storage status

-20℃--+65℃

Safety mat switching current

Max.100mA

Protection level

IP65

Maximum humidity (23 degrees)

95% (condensation)

Response time

18ms

Security Classification

EN 1760-1 reset command

stand by

ISO 13849-1:2015

Cat.3

MTTFd

>30 years

B10d

3*107

Nop (accepted)

52560/year

IEC 61508: PFHS

6.99*10-10 1/h (SIL3)
Standard safety mat specifications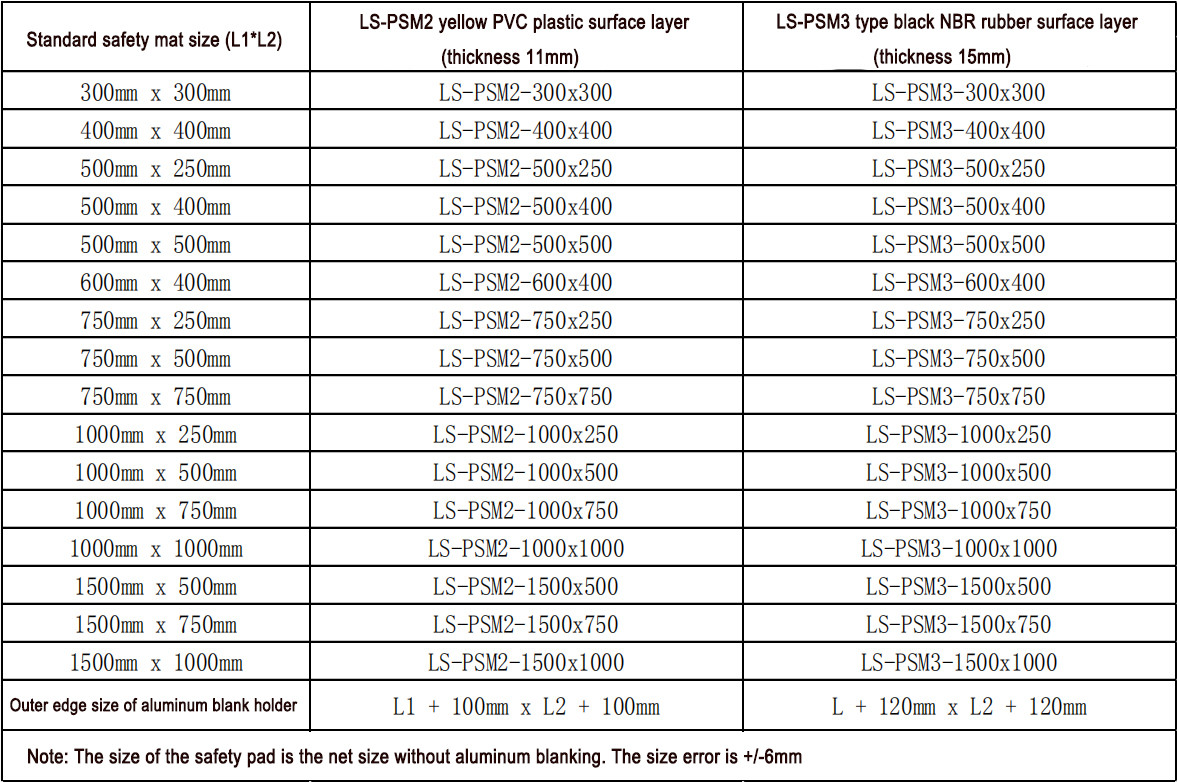 Chemical barrier of protective layer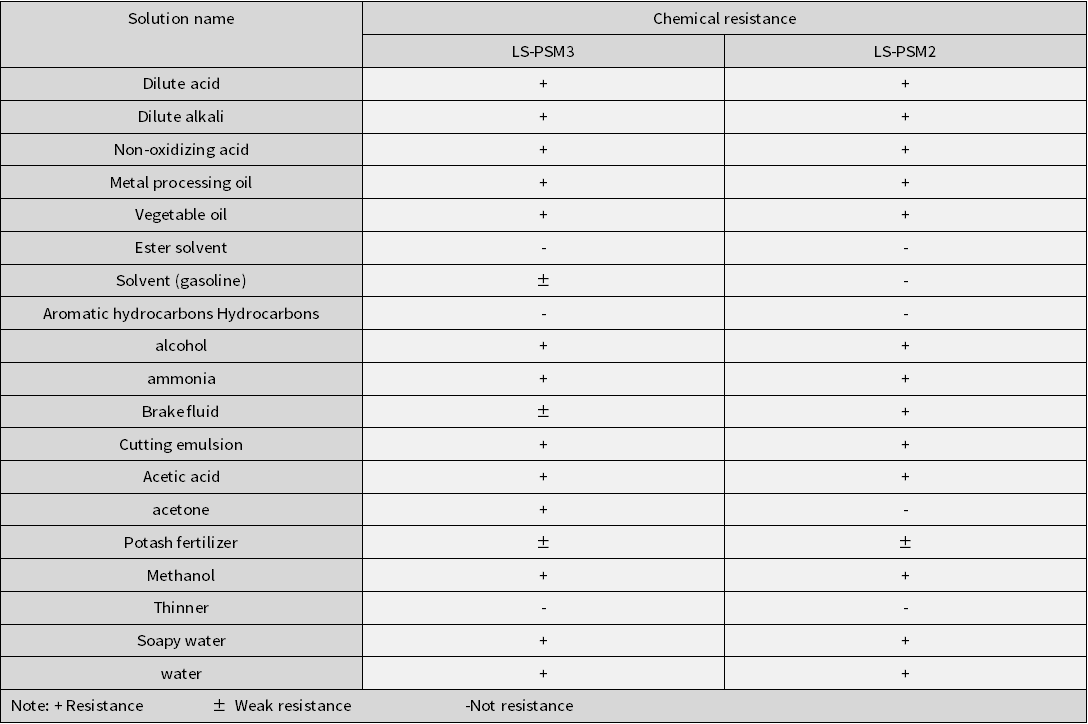 Safety mat can be used as area protection. Typical applications include: welding robots, rubber and plastic machinery, assembly machinery, material handling, packaging machinery, stamping machinery, pressure machinery, automobile manufacturing, steel metallurgy industry. Compared with other protection aspects such as mechanical fences, sliding doors, and pull-back limits, the Safety mat system is more free, flexible, and labor-saving. The full view and full access characteristics of the working area are still retained, which not only improves safety, but also reduces Accumulation of damage.