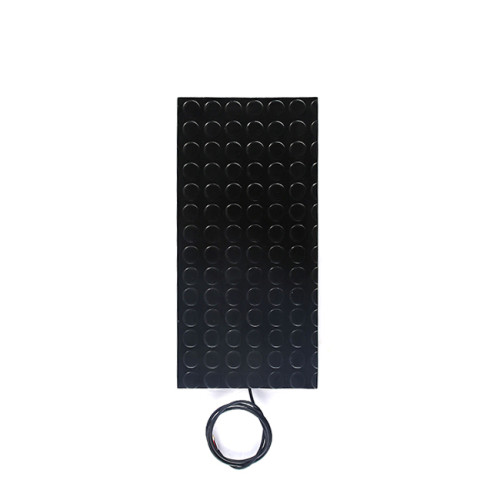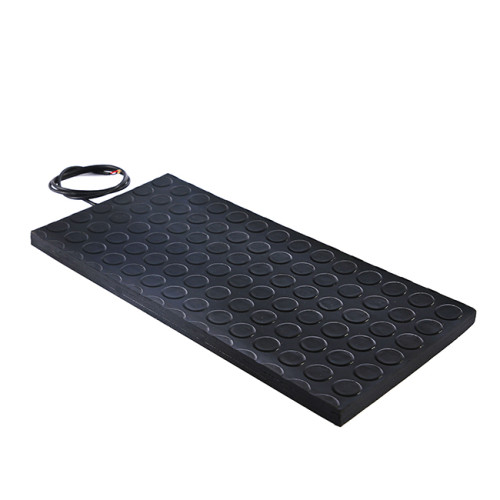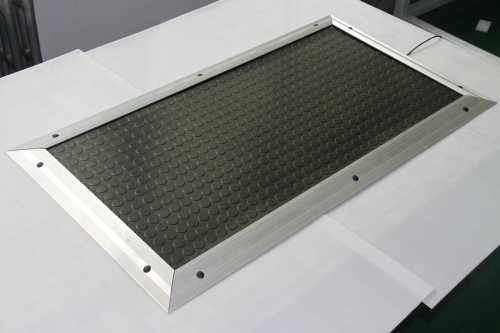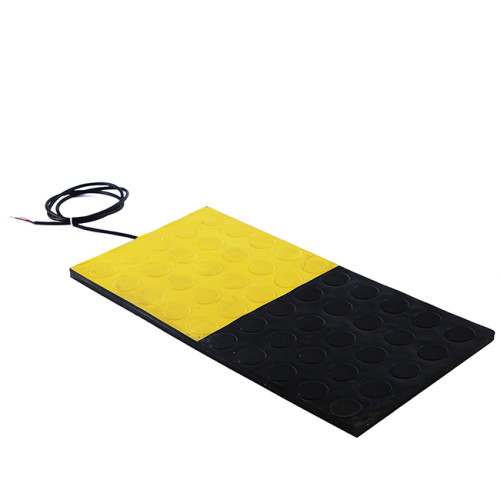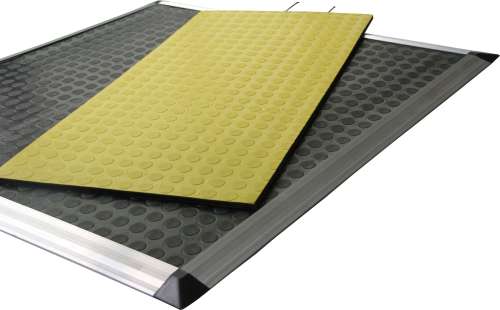 Load safety mat sensor to protect people from entering dangerous areas.
Item specifics
Trigger force

<20kg
Storage status

-20℃--+65℃
Response time

18ms
Description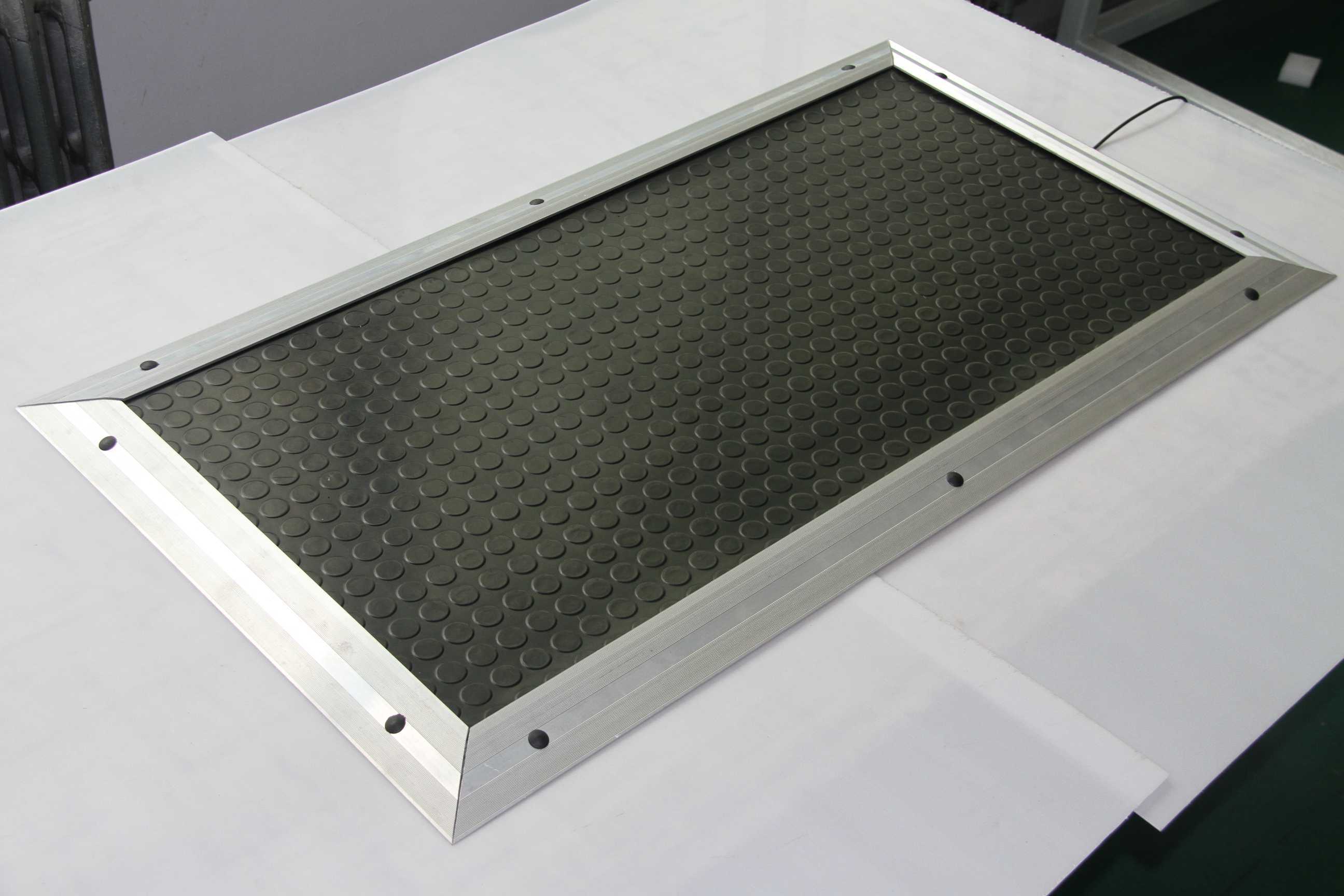 First of all, Safety mat has a more prominent feature, that is, the safety mat is very strong. On the outermost layer of the safety mat structure, there is a layer of special rubber material. The rubber material on this safety mat is particularly good in wear resistance and water resistance. In addition, safety carpets can withstand the erosion of many chemicals. The corrosion resistance of safety carpets is mainly manifested in the resistance to petroleum and diesel. In addition, the safety carpet can also be anti-splash, anti-solvent and so on.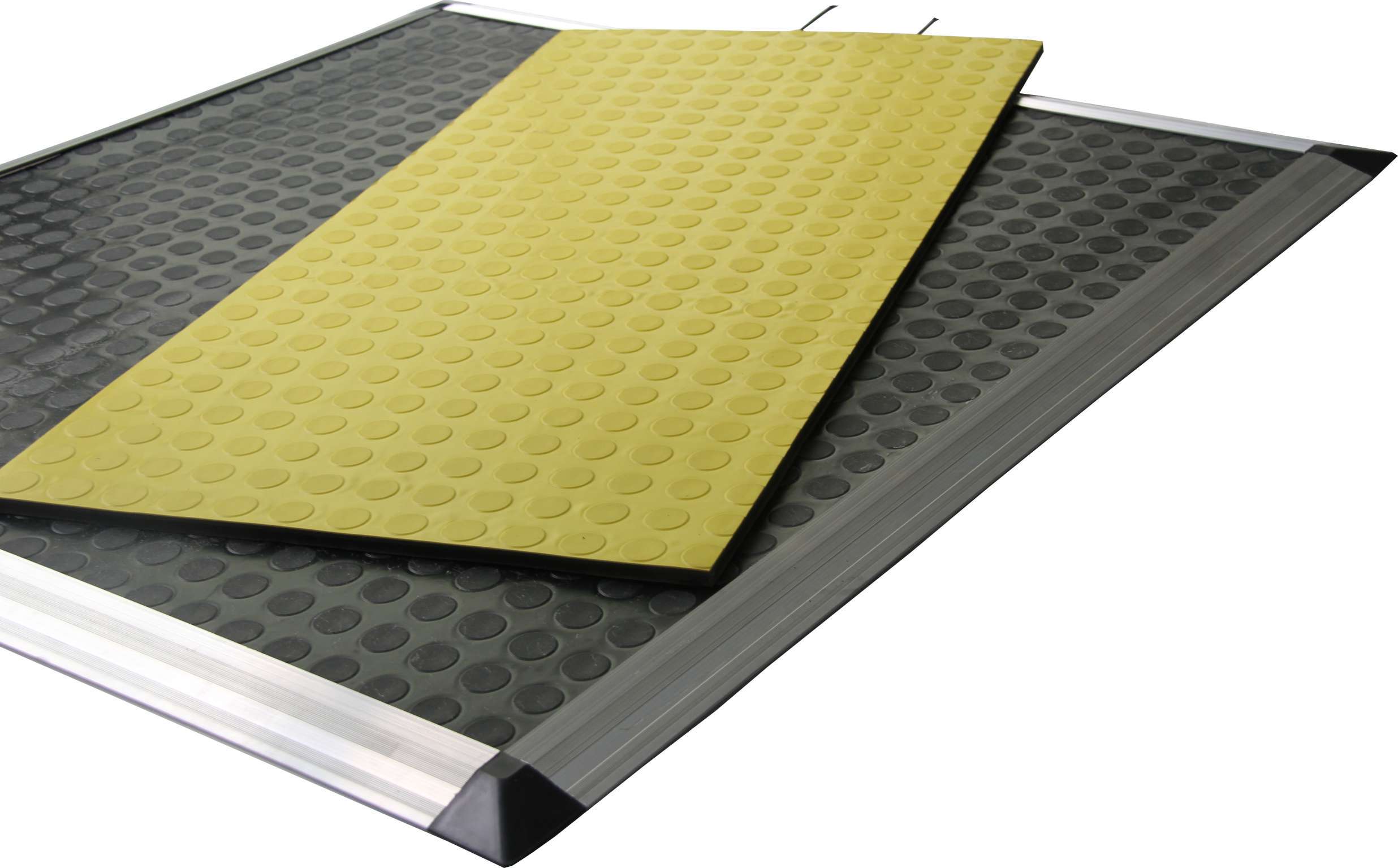 ● The function of the protection device must be checked before use.

● Do not change the position of the protective device at will during use.
● When malfunctions occur, they should be repaired by professionals.
● When disassembling the protective device and cables, turn off the power first and operate by professionals.
● Only molds that cause the same overtravel distance can be replaced. Otherwise, professionals should readjust the installation position of the GTE press brake protection device!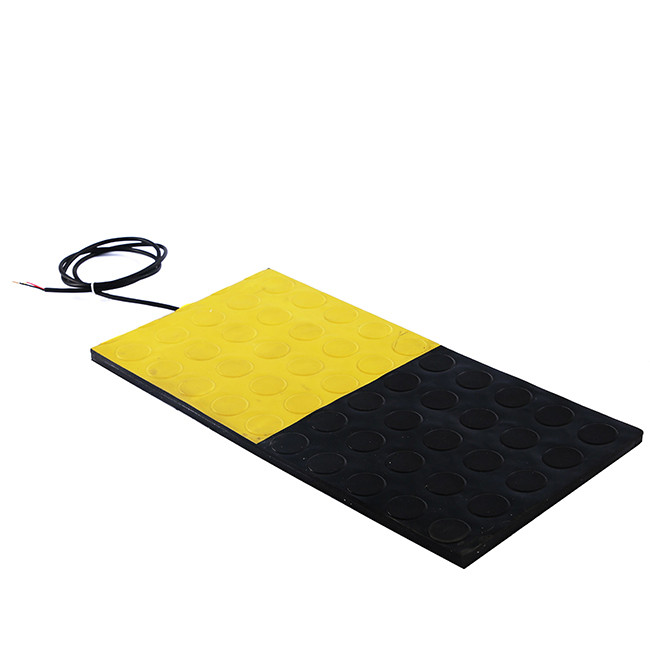 Test principle

EN1760-1,ISO13856-1

project

model

LS-PSM2

LS-PSM3

Detection method

Pressure sensing method

Trigger force

<20kg

Maximum allowable load (8 hours)

≤400N/cm²

≤800N/cm²

Mechanical life

>1,000,000 times

>3,000,000times

Safety carpet area

≤1.5㎡

Edge length min/max

200mm/3000mm

Packaging materials

PVC

NBR,CR

Surface protection layer

PVC

NBR,CR

Environmental conditions

status of use

+5℃--+55℃

-10℃--+65℃

Storage status

-20℃--+65℃

Safety mat switching current

Max.100mA

Protection level

IP65

Maximum humidity (23 degrees)

95% (condensation)

Response time

18ms

Security Classification

EN 1760-1 reset command

stand by

ISO 13849-1:2015

Cat.3

MTTFd

>30 years

B10d

3*107

Nop (accepted)

52560/year

IEC 61508: PFHS

6.99*10-10 1/h (SIL3)
Standard safety mat specifications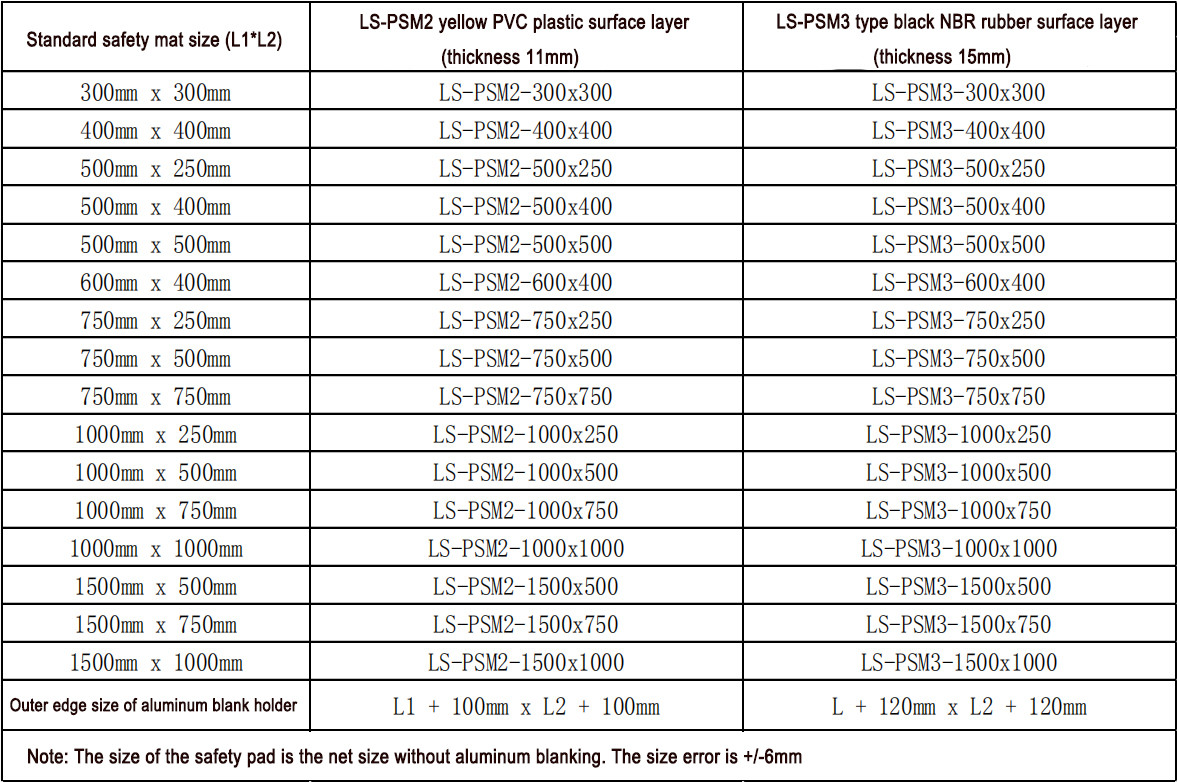 Chemical barrier of protective layer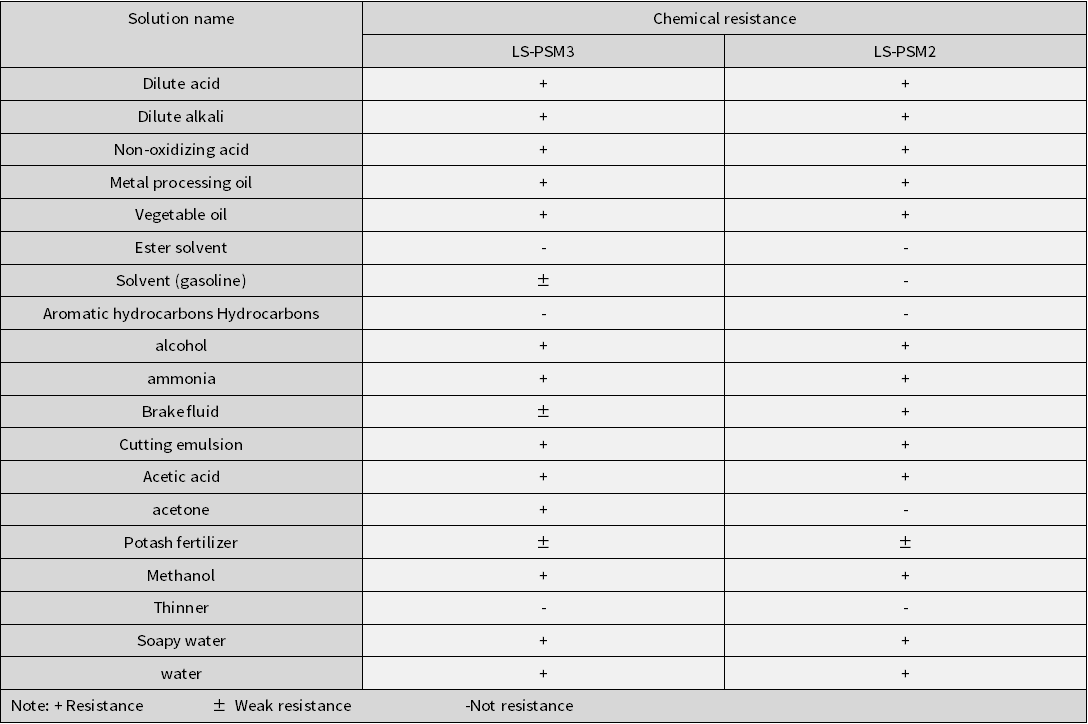 As a special protective switch, the safety carpet is composed of natural rubber components with special load. It belongs to a pressure-sensitive switch, also known as a safety mat, a safety switch, etc. It has the characteristics of large protection range, low price, long life, safety and reliability, free installation, and convenience. The use of on-site channels is smooth and convenient for transportation and feeding, so it is widely used.
 It is generally installed around dangerous machines or in the doorway area of robot manufacturing. As long as a person steps on the safety carpet, the safety carpet will send a signal to the machine, and the machine will stop, avoiding human injury. But before installing the safety carpet, you should confirm the size of the carpet required for installation and the working environment.