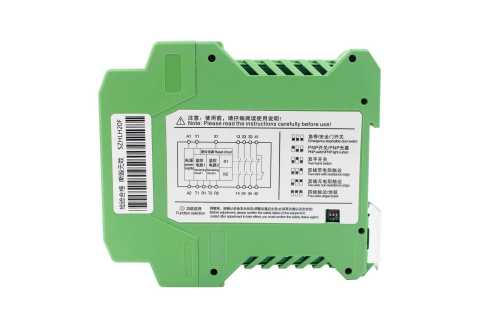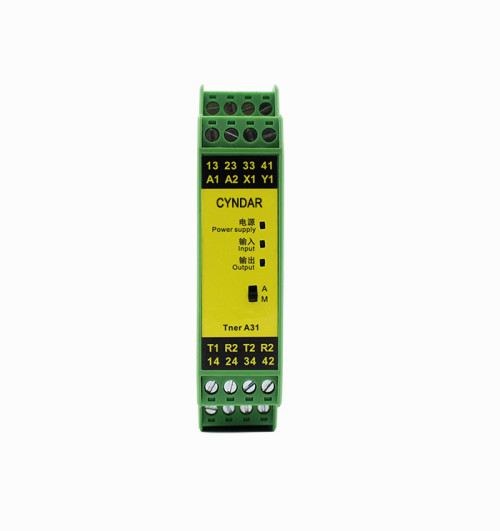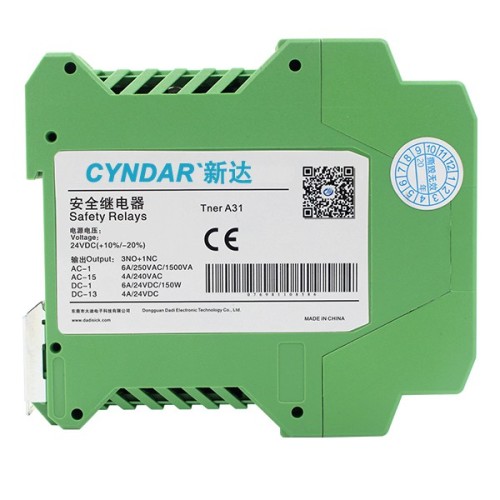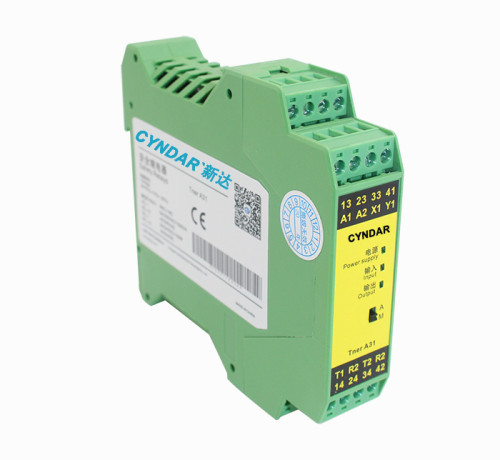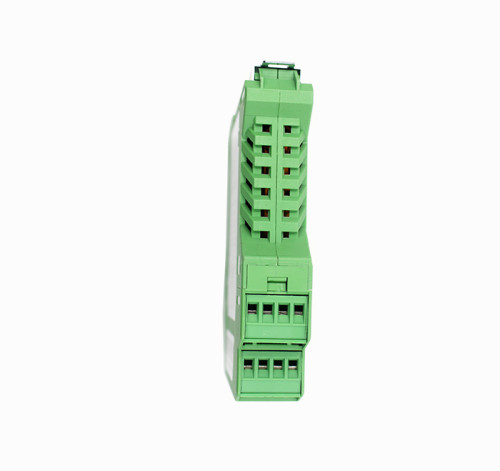 Automatic full-time composition program control available safety relay.
Item specifics
Electrical life

80000times
Contact resistance

<100mΩ
Minimum load

10mA/5V
Description
Automatic full-time composition program control available safety relay.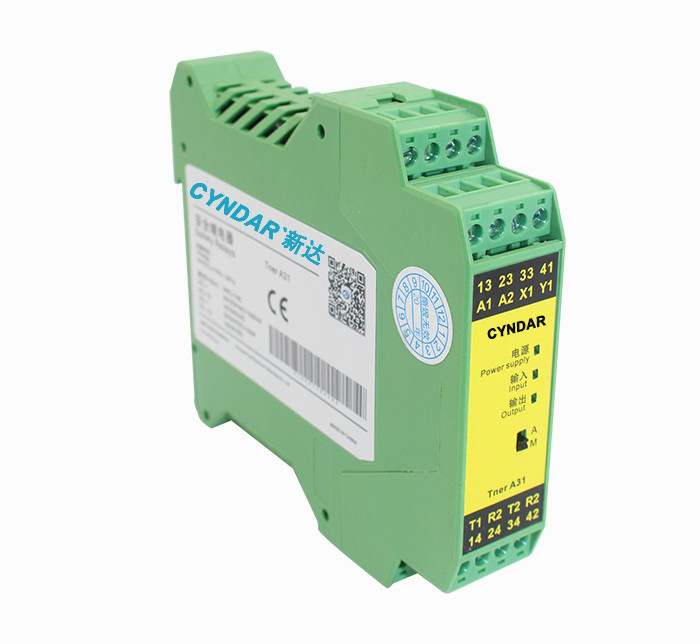 1. Safety forced-off relay output
·3 normally open instantaneous safety contacts (3NO)
·1 normally closed instantaneous safety contact (1NC)
2. LED indicator
·Power indicator
·Input status indication
·Output status indication
3. Automatic reset switch: configurable automatic/manual reset switch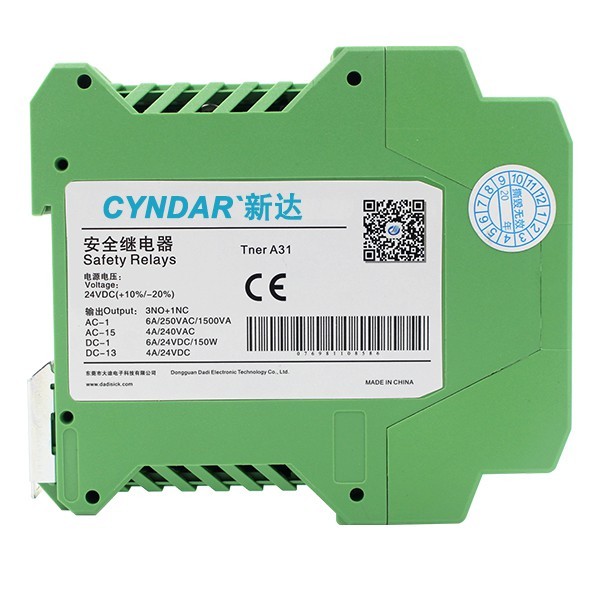 What is the working principle of safety control relays
Electromagnetic relays are generally composed of iron cores, coils, armatures, and contact reeds. As long as a certain voltage is applied to both ends of the coil, a certain current will flow in the coil, which will produce electromagnetic effects. Under the action of electromagnetic force, the armature will overcome the pull force of the return spring and attract to the core, thereby driving the armature. The moving contact and the static contact (normally open contact) are pulled together.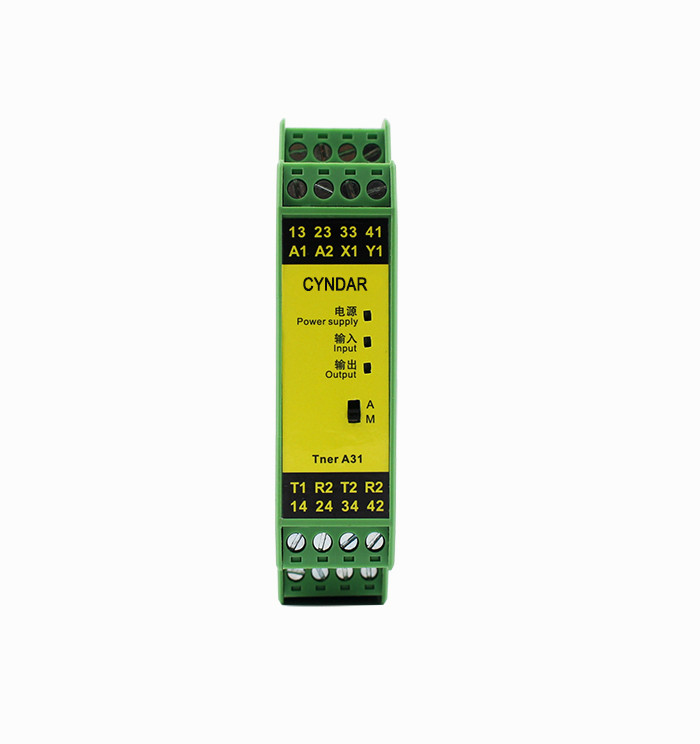 power supply

Power supply

24V DC

Voltage tolerance

+10%/-20%

Power consumption

1.5W

Output

Relay safety output

3NO+1NC

Transistor signal output

<500mA 24VDC

Relay contact capacity

AC-1

6A/250VAC/1500VA

AC-15

4A/240VAC

DC-1

6A/24VDC/150W

DC-13

4A/24VDC

Maximum switching capacity

12A (distributed on all safety output contacts)

Contact resistance

<100mΩ

Minimum load

10mA/5V

Contact material

AgSnO2 + 0.2µmAu

General parameters

Maximum input cable resistance

200Ω

Electrical life

80000times

Pollution level

2

Impulse withstand voltage

2.5kV

Protection level

Shell IP30, terminal IP20, it is recommended to install in the cabinet or shell IP54

size

114.5mm×100.5mm×22.5mm

Standard application

meets the

EN 60947-1:2007/A2:2014

EN 60947-5-1:2004/A12009

EN ISO 13849-1:2015

EN 62061:2005+A2:2015
Terminal function description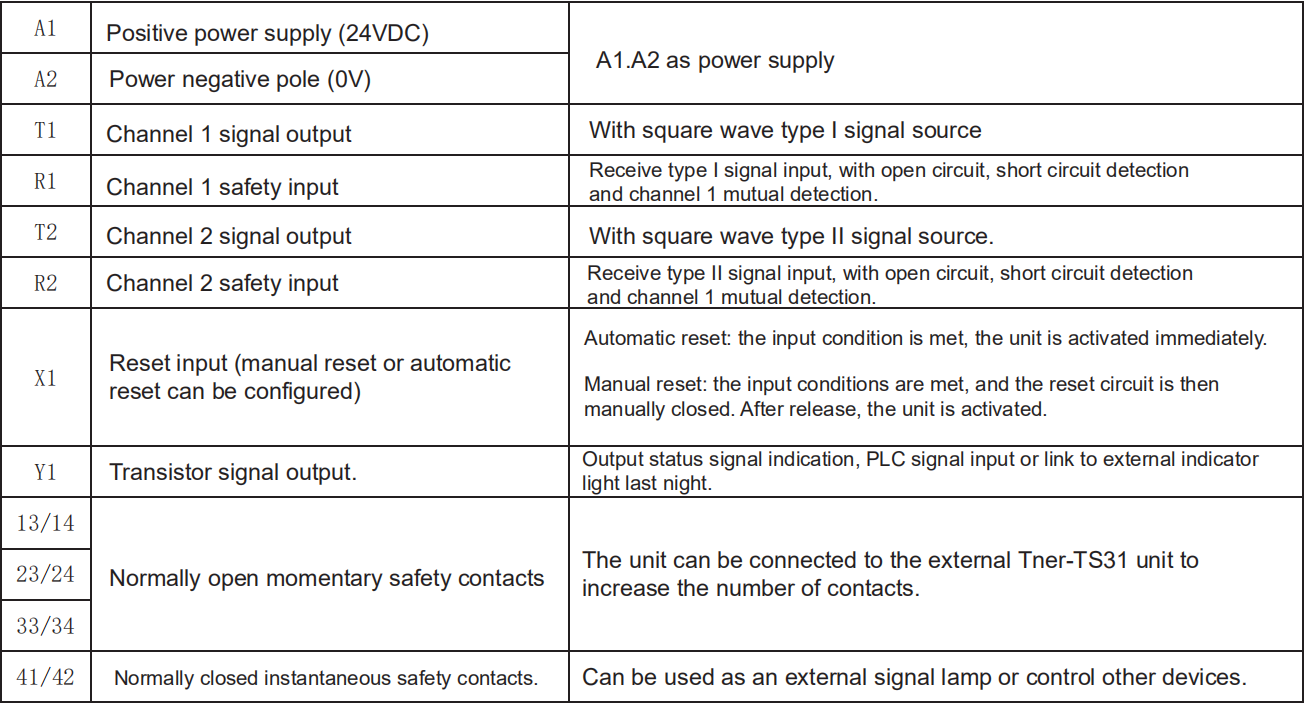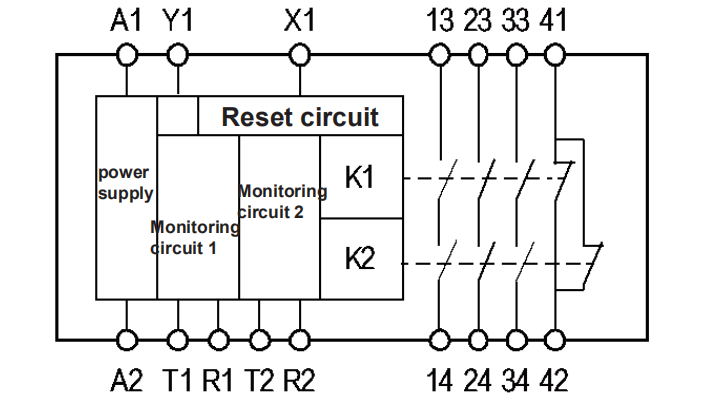 To sum up the application functions of safety control relays, relays have the following functions:
1) Expand the control range: For example, when the control signal of a multi-contact relay reaches a certain value, you can switch, break, and connect multiple circuits at the same time according to different forms of contact groups.
2) Amplification: For example, sensitive safety control relays, intermediate relays, etc., can control a circuit with a large power with a very small control amount.
3) Integrated signal: For example, when multiple control signals are input to a multi-winding relay in a prescribed form, they will achieve the predetermined control effect through comparative integration.
4) Automatic, remote control, and monitoring: For example, the relay on the automatic device and other electrical appliances can form a program control circuit to realize automatic operation.