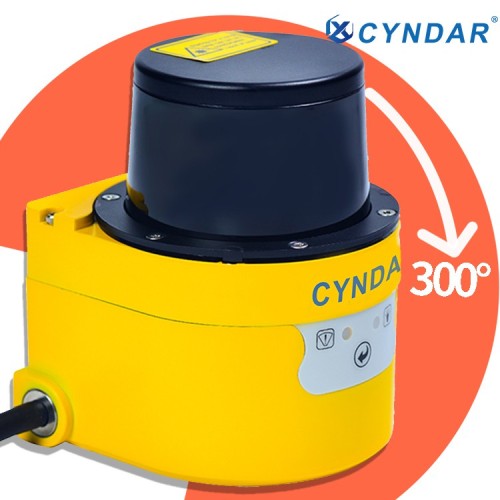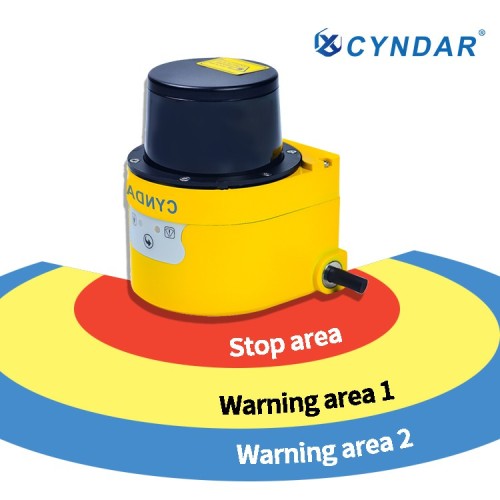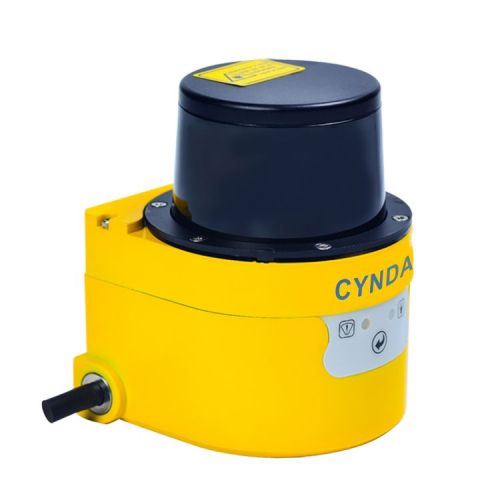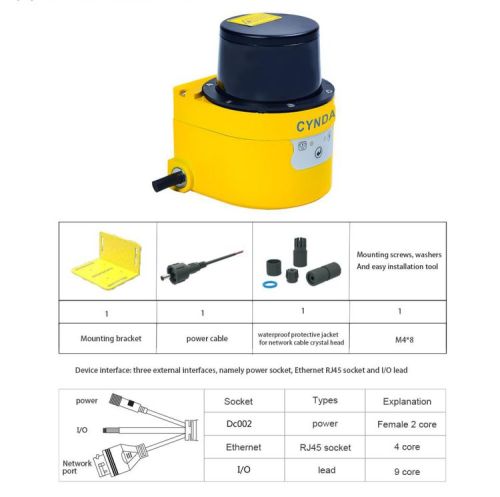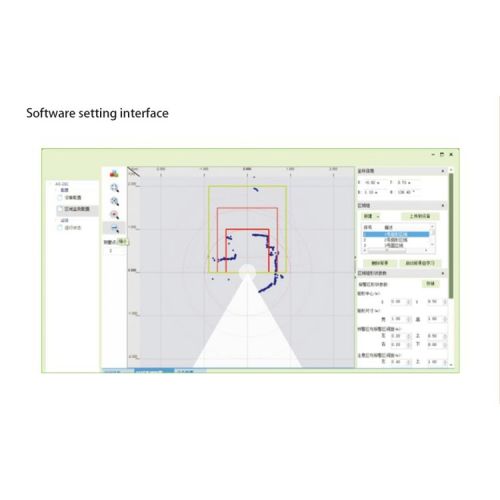 Two dimensional safety laser scanner for transportation vehicles AGV induction sensors
Item specifics
Laser safety level

Class I (GB 7247.1-2012, human eye safety)
Operating Voltage

9V~28V DC
Scanning angle range

300 °
Scan angle resolution

0.5°
Working distance:

0.1m~20m
Environmental illuminance range

≤ 70,000lux
Description
One of the functions of TOF-20S safety laser scanner-normal target self-learning and elimination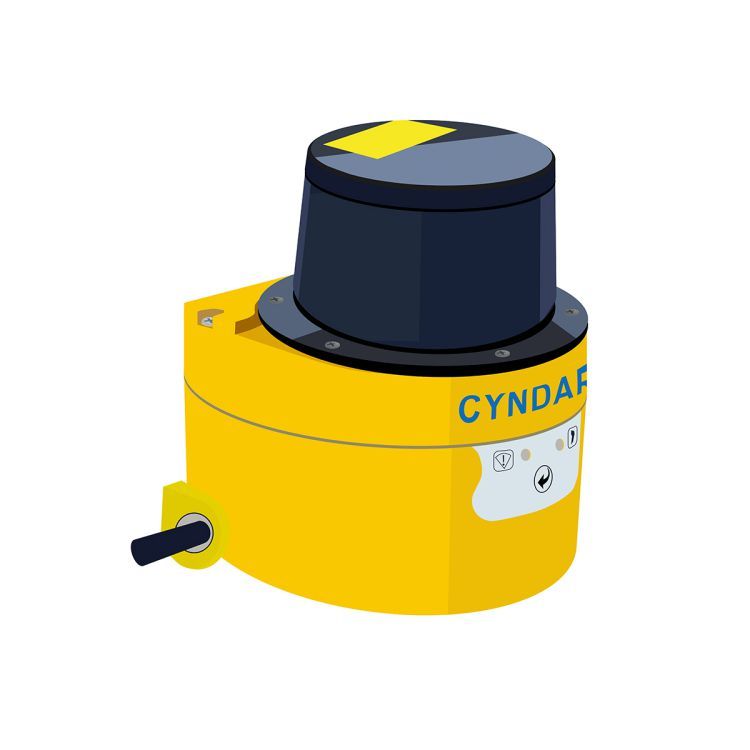 "Normal target self-learning": measure the current scene for a period of time, detect normal targets with specific positions and specific shapes entering the monitoring area, and generate a normal target contour database based on the accumulated normal target contour measurement data, as shown in "Figure 4.9 Normal target self-learning" as shown;
"Normal target exclusion": After the "normal target self-learning" is over, whenever an intrusion target is detected in the monitoring area, the position and contour of the intrusion target will be compared with the normal target database. If it is found to be a normal target, then No monitoring signal is generated;
All activated monitoring area groups can enable the "normal target self-learning" and "normal target exclusion" functions.

Overview of safety laser scanner applications system development

When using the TOF-20S2D safety laser scanner to develop an application system, the application system and TOF-20S mainly interact with the TOF-20S in the form of UDP broadcast messages and TCP messages through the Ethernet interface, and use the acquired information for subsequent processing, and To control TOF-20S to complete application requirements. The functions that can be completed include:
Obtain TOF-20S configuration information;
Obtain distance measurement data and equipment operating status; read and control I/O ports;
Monitoring information of regional monitoring functions, etc.;
According to application requirements, the measurement data and monitoring information are processed through application algorithms.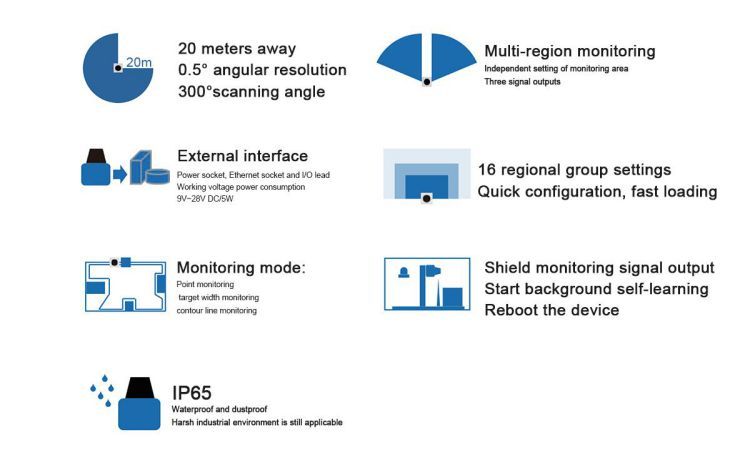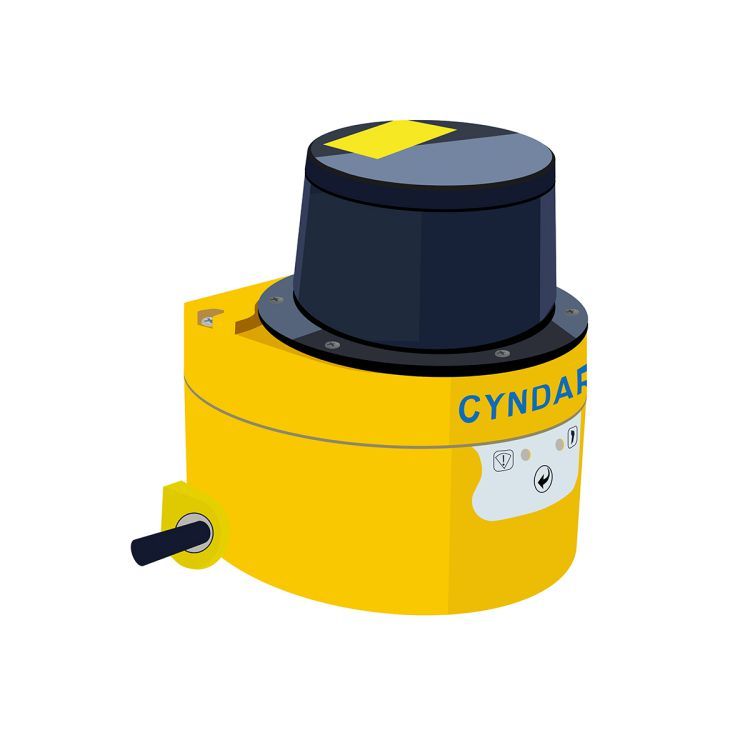 Contact customer service to obtain relevant information

Safety Laser Scanner Product Guide: Users can obtain comparative information of laser radar products to help users complete product selection;

XD-TOF-20S Safety Laser Scanner Product Manual: Users can obtain complete information about the technology and application of TOF-20S;
XD-TOF-20S Safety Laser Scanner Concise Manual: Users can get basic information about TOF-20S, and how to quickly try TOF-20S;
XD-TOF-20S safety laser scanner diagnosis and configuration software (FILPS): Windows installation package and user manual of FILPS software;
XD-TOF-20S Safety Laser Scanner Application Development SDK: Basic C++ code library, Windows dynamic library, Demo program and SDK user manual required for lidar application development.
Safety laser scanner parameters

model

XD-TOF-20S

light source:

Infrared laser (905mm)

Model safety level

Class I (GB7247.1-2012, human eye safety)

Laser spot exit caliber:

8mm

Divergence angle of laser spot:

12.5mrad

The scope of work:

300°

scanning frequency:

25HZ

Scanning angle resolution:

0.5°

Working distance:

0.1m-20m

10% reflectivity range:

10M

Operating Voltage:

9V-28V DC

Power consumption:

5W

Enclosure rating:

IP65(GB4208-2008)

weight:

0.6KG

size:

83.5×86x104.8(mm)

Frequency Range:

10Hz-150H

range of working temperature:

Minus 25℃-+50℃

Environmental illuminance range:

≤70,000 luX

Measurement error

(Typical value of system error):

5CM

Measurement error

(Statistical error 1 б):

2CM

Built-in application

Monitoring signal type

Attention/Warning/Alarm

Area monitoring

Number of concurrent work area groups

16 (max) support self-learning, guiding the network camera to video positioning and tracking the monitoring target

Ethernet

Features:

Equipment configuration/measurement data output/monitoring signal output

1/O input terminal:

Quantity:

4

1/O output

Types of:

PNP OC output

Indicator light:

Quantity:

2;

Indicator light:

definition:

ERR (Equipment alarm: Dirty/obstructed light transmission cover, high and low temperature); HTR (Operation status indication: detection signal/self-learning/ready to restart)

Front panel buttons:

1 piece

Screen monitoring signal output/start background self-learning/restart device
TOF-20S accessories and interfaces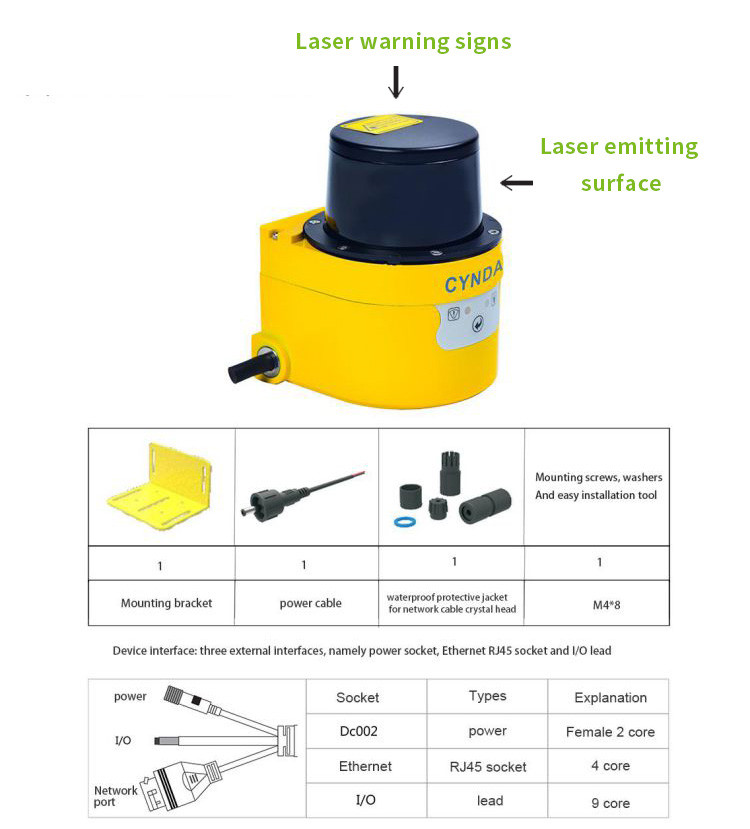 TOF-20S safety laser sensor product size

Measuring coordinate system/scanning range/range
In the factory setting, the original working scanning range of TOF-20S is the device scanning range of 300 °, the scanning start angle is-60 °, and the scanning end angle is 240 °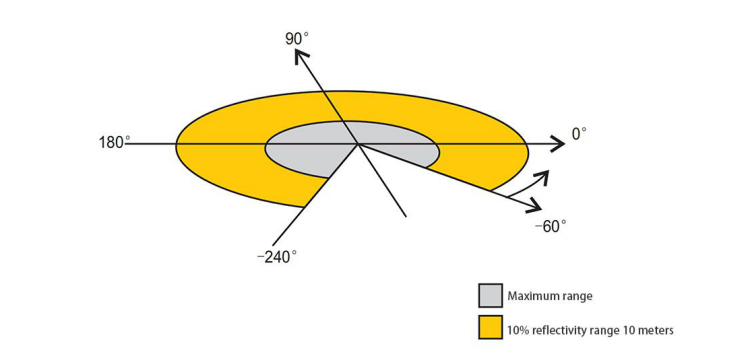 TOF-20S software setting interface

For detailed usage of FILPS, please read the "Lidar Diagnosis and Configuration Software (FILPS) Manual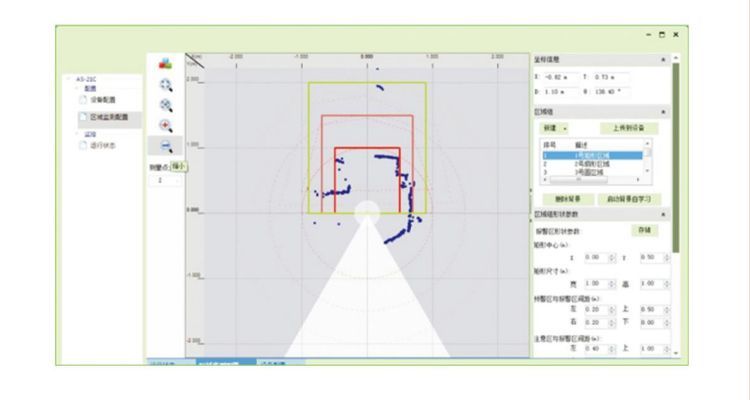 Product application scenarios and others

TOF-20S Safety laser sensorcan set 16 area groups, three groups of independent switches, NPN output, suitable for a variety of shape detection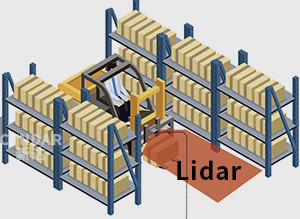 The TOF-20S safety laser scanner sensor is used in the storage AGV system: it consists of a series of hardware systems such as picking robots, movable shelves, replenishment/picking workstations, and software systems based on artificial intelligence algorithms to complete the A complete intelligent order fulfillment system for shelves, picking, replenishment, return, inventory and other processes. The main application scenarios include warehousing e-commerce logistics, and a small number of manufacturers are used in the production chain, such as the automotive industry.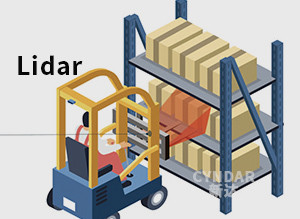 The TOF-20S safety laser scanner sensor is installed in the front and rear of the AGV, and the position and distance information of the obstacle is recognized and fed back to the AGV. After the AGV processes it, it performs early warning or obstacle avoidance.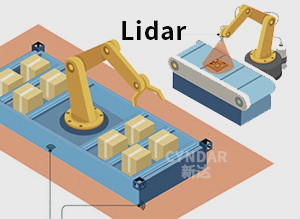 Use TOF-20S safety laser scanner sensor for AGV, picking AGV as the core module of warehousing AGV, in all business processes involving the sorting warehouse area (including shelves, replenishment, picking, inventory, return, etc.), According to the system's assignment, the target racks are transported to the workstations, and after the employees complete the business under the guidance of the system, the racks are sent back to the sorting warehouse area.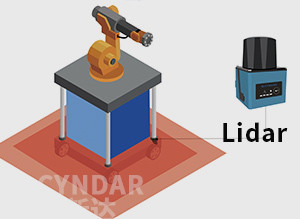 The TOF-20S safety laser scanner sensor is installed in the power station inspection robot, which is mainly used in indoor and outdoor substations to replace the inspectors for inspection. The robot system carries infrared thermal imaging cameras, visible light ccd and other related power station equipment detection devices, in an autonomous and remote manner, instead of people to conduct inspections on outdoor high-voltage equipment, in order to find the internal thermal defects of the power equipment, external mechanical or electrical problems Such as foreign matter, damage, heat, oil leakage, etc., to provide operators with relevant data for diagnosing potential accidents and failure precursors in the operation of power equipment

Factory and product content