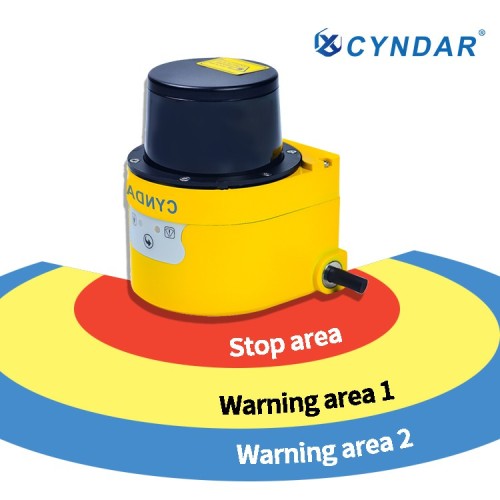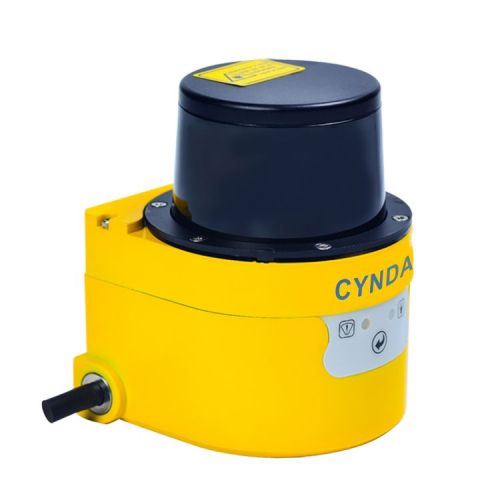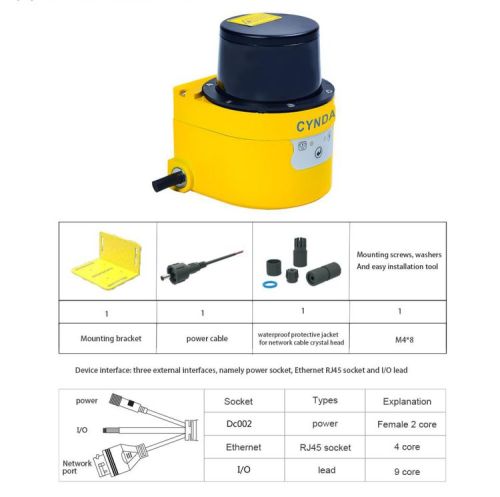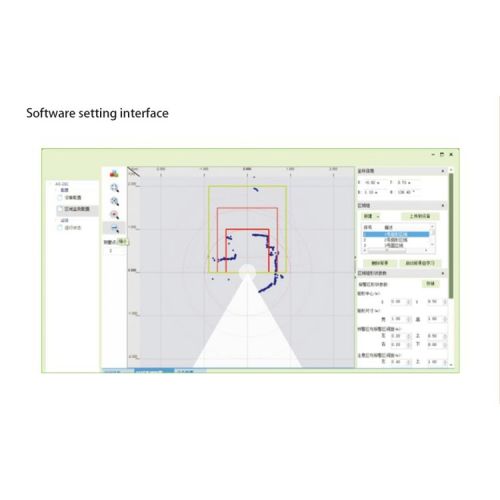 AGV car stop protection warning safety laser scanner sensor laser area scanner 20 m
Item specifics
Laser safety level

Class I (GB 7247.1-2012, human eye safety)
Operating Voltage

9V~28V DC
Scanning angle range

300 °
Scan angle resolution

0.5°
Working distance:

0.1m~20m
Environmental illuminance range

≤ 70,000lux
Description
How to adjust the scanning range of 2d laser scanner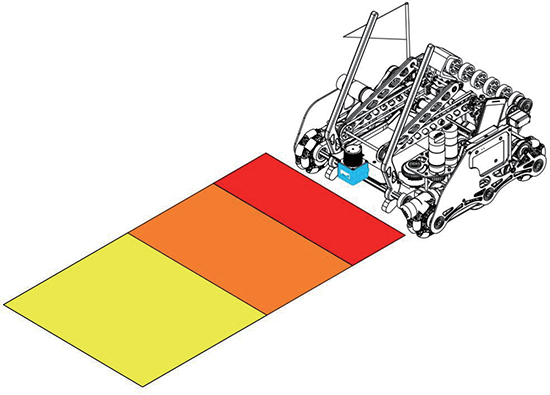 Safety laser scanner area protection
Safety laser scanner sensor area protection has large-scale applications in the protection of mobile systems, one of which is AGV or vehicle obstacle avoidance.
The 05D safety laser sensor series is installed on the AGA trolley. The AGV trolley runs on a fixed route. When an object enters area 3, the car starts to decelerate; when it enters area 2, it continues to decelerate; when it enters area 3, it stops.
On the AGV driving path, due to different environments, the car needs to change the scope of its protection area, that is, change the shape of the area. Users can load pre-set area groups in the 05D series. When the car reaches a specific node on the path, the work area group can be changed to adapt to different environments.

2d laser scanner sensor operation and maintenance
The TOF-20S2d laser scanner working in a clean environment basically requires no maintenance. When working in an environment that may be contaminated by dirt, the main maintenance task is to clean the translucent cover. Pay attention to when cleaning the translucent cover:
Do not use corrosive or solid cleaning agents; do not use hard cleaning materials.
The static electricity on the translucent cover will cause the dust particles to easily adhere, causing the measurement ability to decline. At this time, use a lens cloth with the ability to eliminate static electricity to wipe the translucent cover.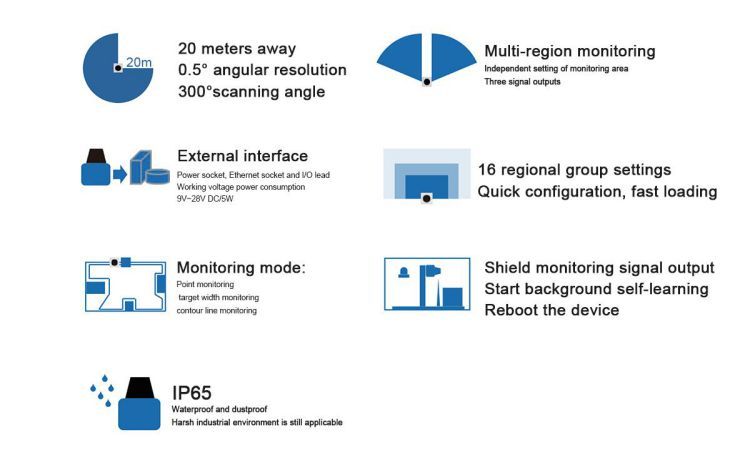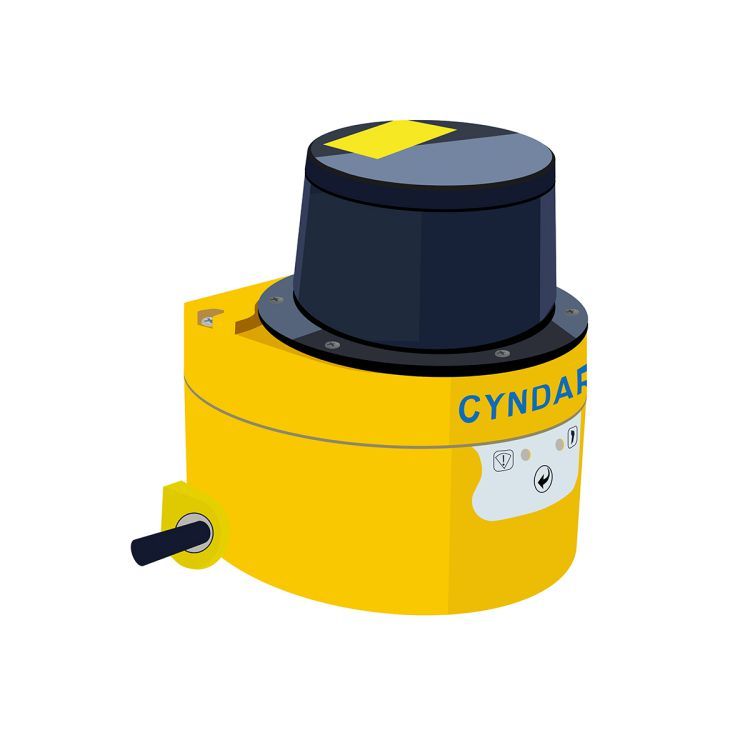 How to adjust the scanning range of 2d laser scanner

In the factory setting, the original working scanning range of the TOF-20S laser scanner sensor is the device scanning range of 300 °, the scanning start angle is-60 °, and the scanning end angle is 240 °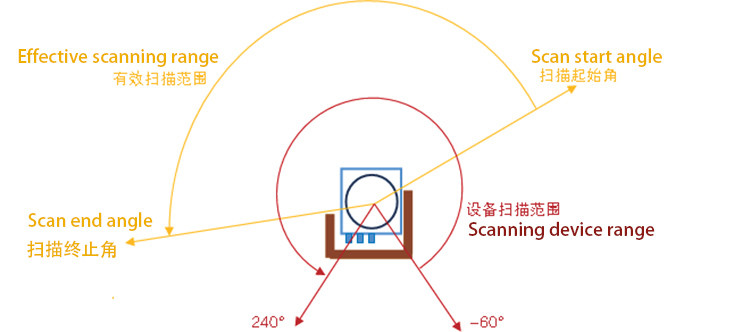 2d lidar sensor Regional Team and Monitoring Regional Team
After binding a monitoring mode to each area group, a monitoring area group is formed, which can be activated and put into operation. TOF-20S laser scanner sensor can have up to 16 concurrent monitoring area groups.

TOF-20S laser scanner sensor has built-in 4 groups of preset area groups of different shapes, sizes and positions, as shown in "Table 4.2 Preset Area Groups," and "Table 4.3 Basic Parameters of Preset Area Groups". In actual use, you can select from these 4 groups of area groups according to your needs, use the area group shape editing function of FILPS to edit and modify, or you can create a new area group.
Preset area group

Area group number

shape

Shape parameter of alarm area

0

Central location

Length and width / radius of alarm area

Angle range

rectangle

(0, 50)

100c m ╳ 100c m

1

sector

100c m

[0°, 180°]

2

Polygon

Pentagon

3

Round

100c m
Basic parameters of preset zone groups
parameter name

Settings

Description

Shield radius

20cm

The minimum radius of the short-distance shielding area, targets smaller than this distance will not generate monitoring signals.

Buffer distance of warning zone

Rectangle (0#)

50cm(up)/ 0(down)/ 20cm(left)/ 20cm(right)

The distance from the edge of the warning zone and the buffer distance from the edge of the warning zone.

Sector (1#)

50cm

Round (3#)

50cm

Attention zone buffer distance

Rectangle (0#)

100c m (up) / 0 (down) / 40cm (left) / 40cm (right)

Note that the edge of the zone is away from the alarm zone,

The buffer distance of the edge.

Sector (1#)

100c m

Round (3#)

100c m
Safety laser scanner parameters

model

XD-TOF-20S

light source:

Infrared laser (905mm)

Model safety level

Class I (GB7247.1-2012, human eye safety)

Laser spot exit caliber:

8mm

Divergence angle of laser spot:

12.5mrad

The scope of work:

300°

scanning frequency:

25HZ

Scanning angle resolution:

0.5°

Working distance:

0.1m-20m

10% reflectivity range:

10M

Operating Voltage:

9V-28V DC

Power consumption:

5W

Enclosure rating:

IP65(GB4208-2008)

weight:

0.6KG

size:

83.5×86x104.8(mm)

Frequency Range:

10Hz-150H

range of working temperature:

Minus 25℃-+50℃

Environmental illuminance range:

≤70,000 luX

Measurement error

(Typical value of system error):

5CM

Measurement error

(Statistical error 1 б):

2CM

Built-in application

Monitoring signal type

Attention/Warning/Alarm

Area monitoring

Number of concurrent work area groups

16 (max) support self-learning, guiding the network camera to video positioning and tracking the monitoring target

Ethernet

Features:

Equipment configuration/measurement data output/monitoring signal output

1/O input terminal:

Quantity:

4

1/O output

Types of:

PNP OC output

Indicator light:

Quantity:

2;

Indicator light:

definition:

ERR (Equipment alarm: Dirty/obstructed light transmission cover, high and low temperature); HTR (Operation status indication: detection signal/self-learning/ready to restart)

Front panel buttons:

1 piece

Screen monitoring signal output/start background self-learning/restart device
TOF-20S accessories and interfaces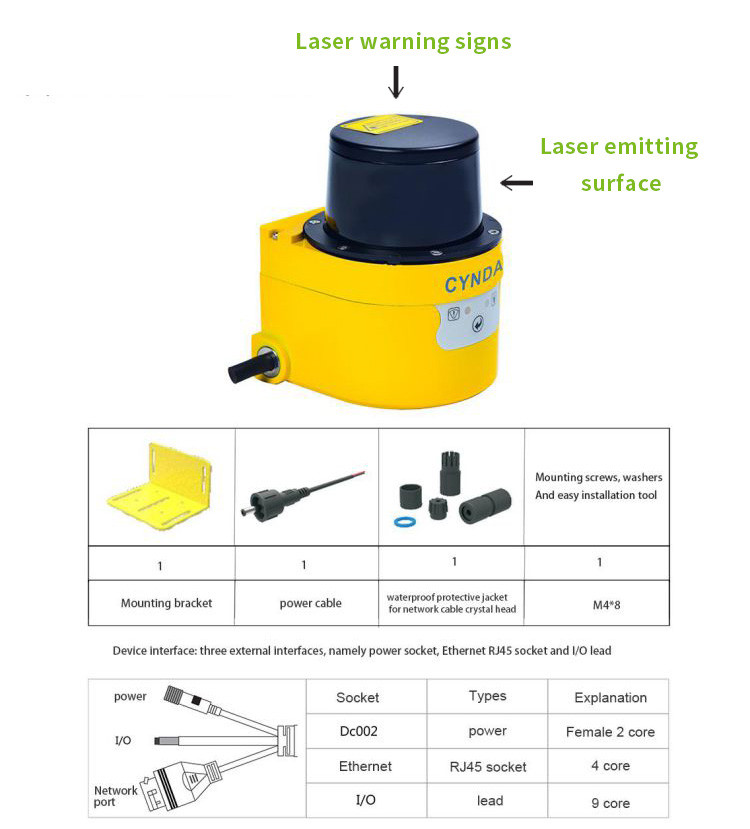 TOF-20S safety laser sensor product size

Measuring coordinate system/scanning range/range
In the factory setting, the original working scanning range of TOF-20S is the device scanning range of 300 °, the scanning start angle is-60 °, and the scanning end angle is 240 °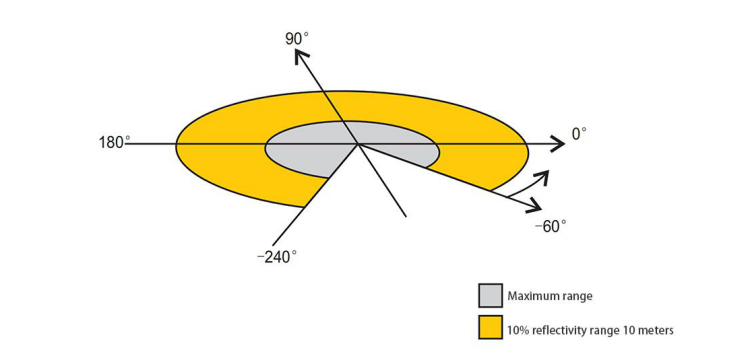 TOF-20S software setting interface

For detailed usage of FILPS, please read the "Lidar Diagnosis and Configuration Software (FILPS) Manual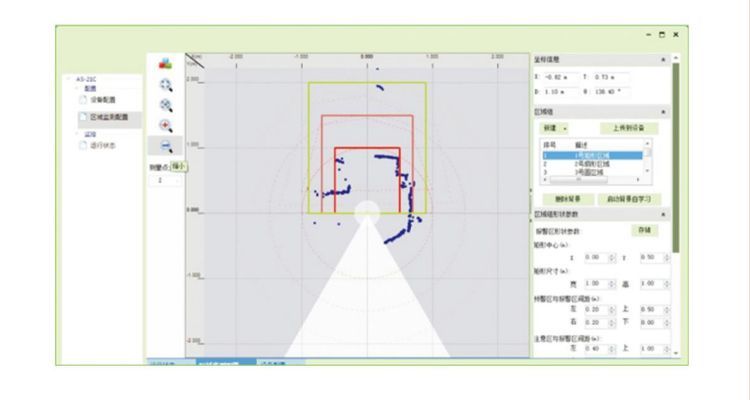 Product application scenarios and others

TOF-20S Safety laser sensorcan set 16 area groups, three groups of independent switches, NPN output, suitable for a variety of shape detection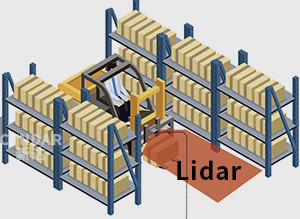 With the development of the market logistics industry, manpower can no longer support the huge logistics transportation system, resulting in inaccurate data, management personnel unable to deal with shortages and warehouse explosions in a timely manner, greatly reducing the operational efficiency of logistics and transportation, in order to increase customer market share CYNDAR has launched an AGV obstacle avoidance solution to help the AGV industry move towards a more stable, flexible and faster automation direction.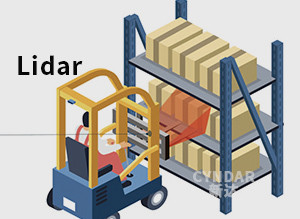 Install single-point lidar sensors at a fixed position around the AGV,
Realize obstacle avoidance in specific directions, low cost and small size, easy to install and integrate
Excellent stability, high detection frame rate, low development cost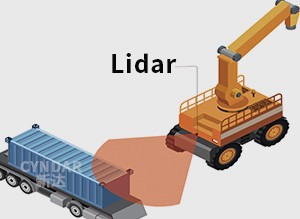 Outdoor AGV: refers to an AGV that operates outdoors and has autonomous navigation functions. Its main application scenarios are mainly concentrated outdoors, such as: streets, factories, office buildings, supermarkets and so on. Its functions include: cleaning, security, inspection, distribution and so on. The general classifications are: outdoor cleaning AGV, outdoor security patrol AGV, substation inspection AGV, logistics and distribution AGV, etc.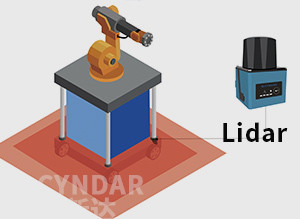 Install CYNDAR TOF-20S directly in front of the manipulator, identify the surrounding obstacles and feed it back to the robot. After processing by the robot system, it will prevent collisions or assist in positioning the tray position

Factory and product content