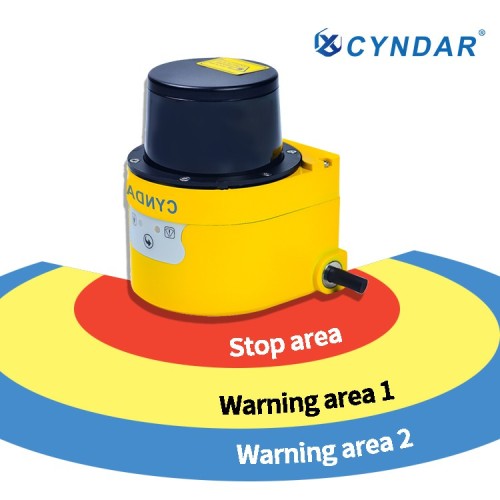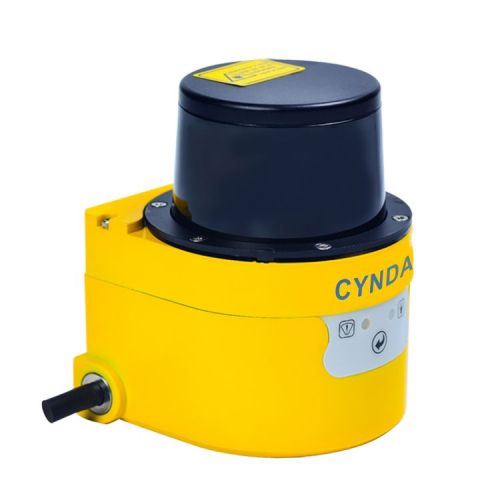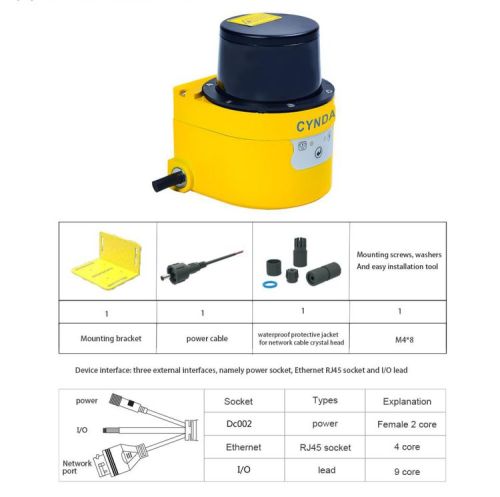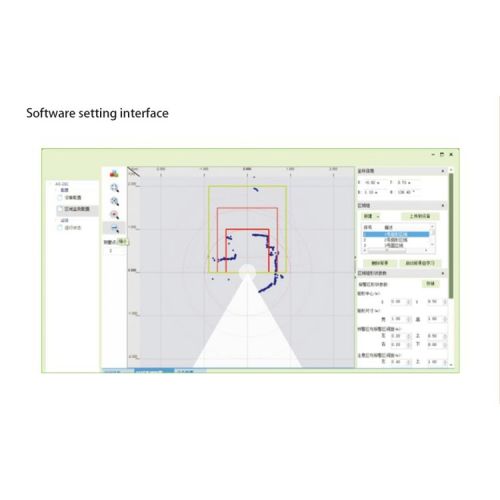 Ranging logistics transportation 2D laser scanner sensor safety scannerslaser
Item specifics
Laser safety level

Class I (GB 7247.1-2012, human eye safety)
Operating Voltage

9V~28V DC
Scanning angle range

300 °(- 60°~+240 °)
Scan angle resolution

0.5°
Measuring range

0.1m~20m
Environmental illuminance range

≤ 70,000lux
Description
How to adjust the scanning range of 2d laser scanner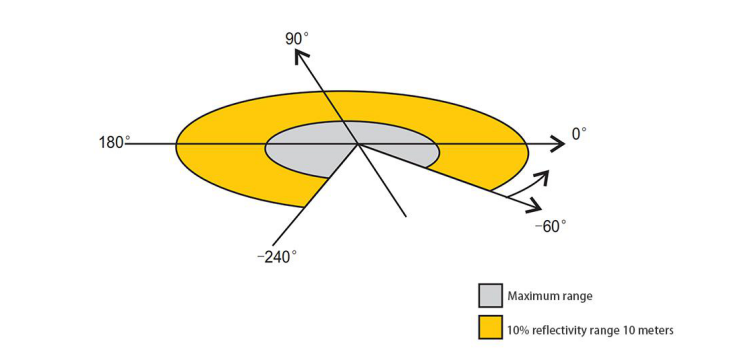 In the factory setting, the original working scanning range of the TOF-20S laser scanner sensor is the device scanning range of 300 °, the scanning start angle is-60 °, and the scanning end angle is 240 °, as shown in Figure 10.1 Measuring coordinate system / scanning range / Range". When installing and using TOF-20S, at the height of the laser scanning surface within the original working scanning range, if there is an object not more than 5cm away from the transparent cover, such as a protective cover structure designed by the user, or in the installation environment Non-removable objects or walls will cause the equipment to block the alarm, and may also trigger the area monitoring function to output area monitoring signals. In order to avoid this situation, it is necessary to adjust the scan start angle and scan end angle according to the actual effective scan range of TOF-20S in the working environment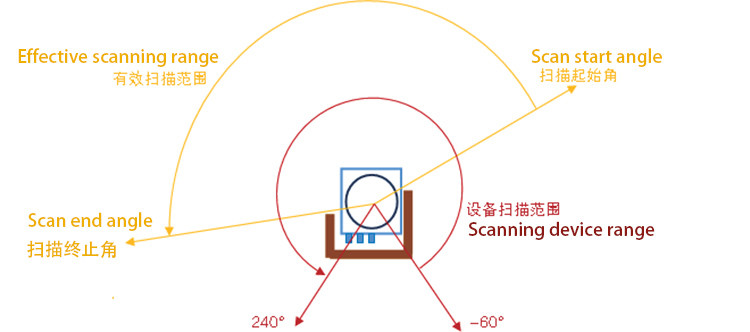 2d laser scanner sensor operation and maintenance
The TOF-20S2d laser scanner working in a clean environment basically requires no maintenance. When working in an environment that may be contaminated by dirt, the main maintenance task is to clean the translucent cover. Pay attention to when cleaning the translucent cover:
Do not use corrosive or solid cleaning agents; do not use hard cleaning materials.
The static electricity on the translucent cover will cause the dust particles to easily adhere, causing the measurement ability to decline. At this time, use a lens cloth with the ability to eliminate static electricity to wipe the translucent cover.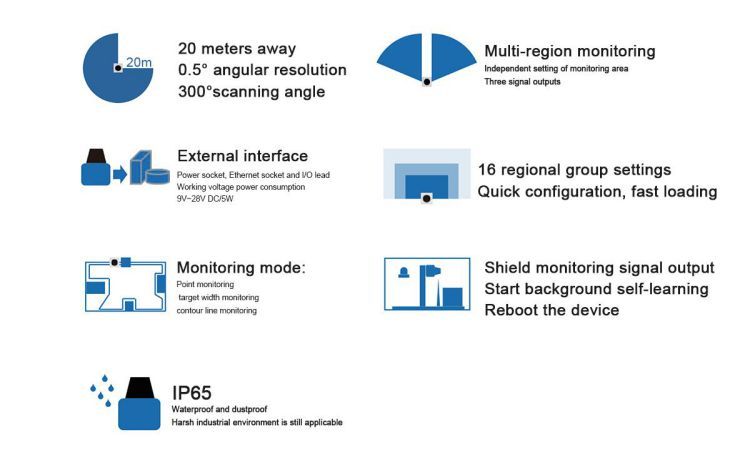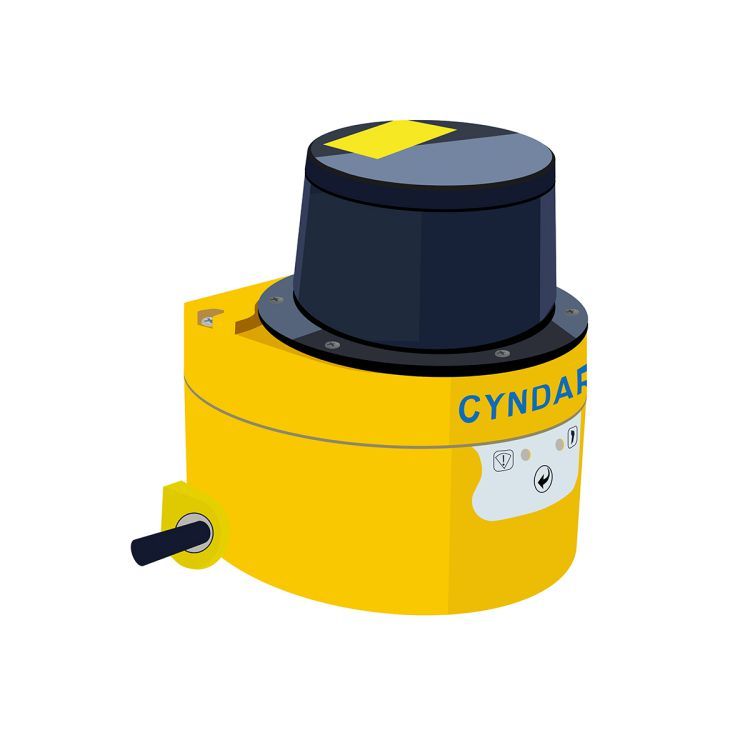 Safety area scanner installation basic requirements

The weight of the TOF-20S 2d laser scanner sensor is 0.6Kg. When installing TOF-20S, the basic requirements are: installation and tightening; away from vibration sources or taking shock-absorbing measures; avoiding impact.
For TOF-20S working outdoors, necessary protective facilities should be installed to prevent the translucent cover from being polluted, damaged or exposed to direct sunlight. The standard protective cover TOF-20S-WJ of TOF-20S can be installed, or the protective cover can be designed by yourself.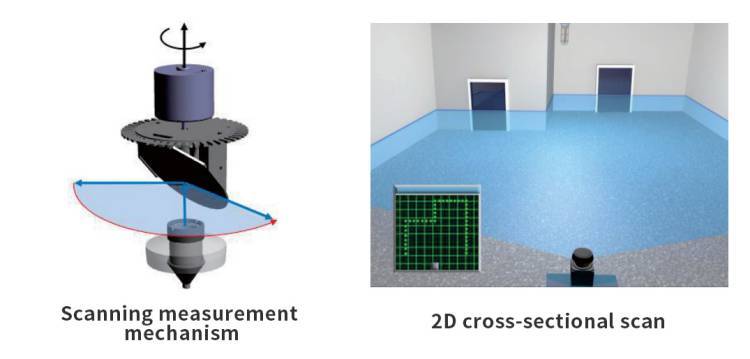 Safety laser scanner parameters

model

XD-TOF-20S

light source:

Infrared laser (905mm)

Model safety level

Class I (GB7247.1-2012, human eye safety)

Laser spot exit caliber:

8mm

Divergence angle of laser spot:

12.5mrad

The scope of work:

300°

scanning frequency:

25HZ

Scanning angle resolution:

0.5°

Working distance:

0.1m-20m

10% reflectivity range:

10M

Operating Voltage:

9V-28V DC

Power consumption:

5W

Enclosure rating:

IP65(GB4208-2008)

weight:

0.6KG

size:

83.5×86x104.8(mm)

Frequency Range:

10Hz-150H

range of working temperature:

Minus 25℃-+50℃

Environmental illuminance range:

≤70,000 luX

Measurement error

(Typical value of system error):

5CM

Measurement error

(Statistical error 1 б):

2CM

Built-in application

Monitoring signal type

Attention/Warning/Alarm

Area monitoring

Number of concurrent work area groups

16 (max) support self-learning, guiding the network camera to video positioning and tracking the monitoring target

Ethernet

Features:

Equipment configuration/measurement data output/monitoring signal output

1/O input terminal:

Quantity:

4

1/O output

Types of:

PNP OC output

Indicator light:

Quantity:

2;

Indicator light:

definition:

ERR (Equipment alarm: Dirty/obstructed light transmission cover, high and low temperature); HTR (Operation status indication: detection signal/self-learning/ready to restart)

Front panel buttons:

1 piece

Screen monitoring signal output/start background self-learning/restart device
TOF-20S accessories and interfaces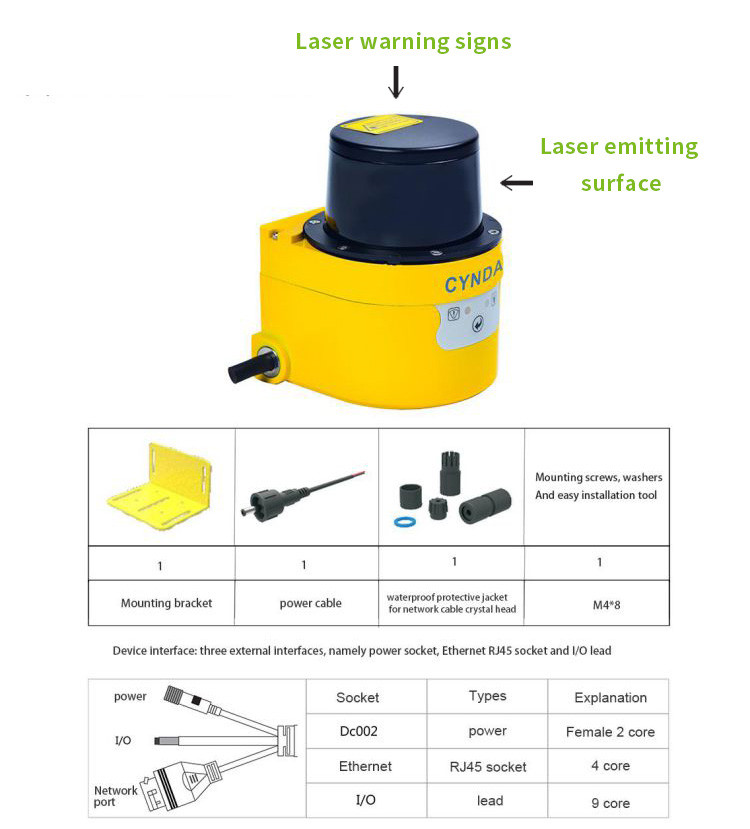 TOF-20S safety laser sensor product size

Measuring coordinate system/scanning range/range
In the factory setting, the original working scanning range of TOF-20S is the device scanning range of 300 °, the scanning start angle is-60 °, and the scanning end angle is 240 °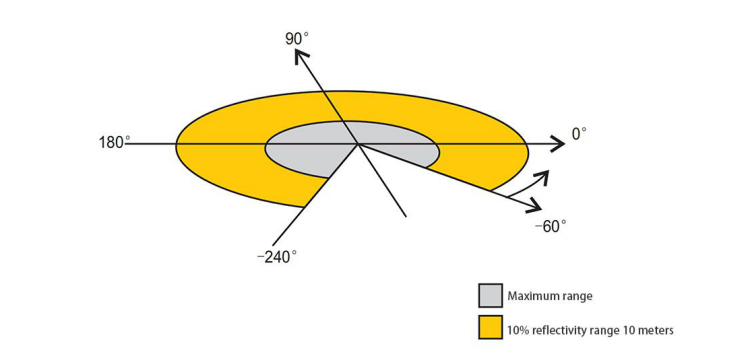 TOF-20S software setting interface

For detailed usage of FILPS, please read the "Lidar Diagnosis and Configuration Software (FILPS) Manual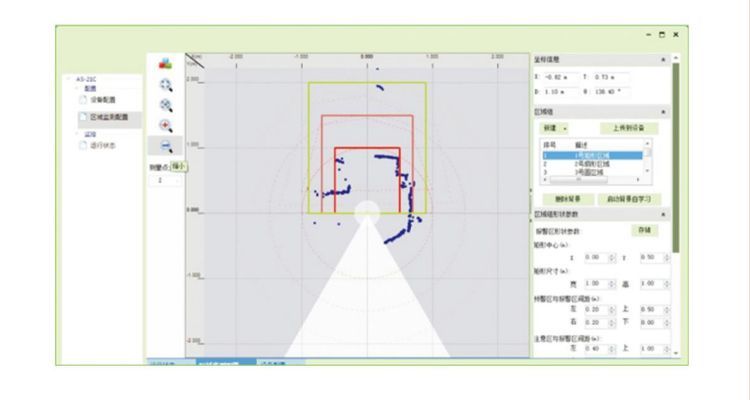 Product application scenarios and others

TOF-20S Safety laser sensorcan set 16 area groups, three groups of independent switches, NPN output, suitable for a variety of shape detection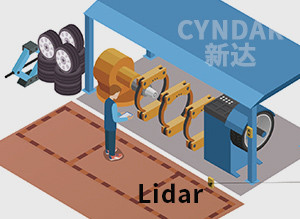 The safety laser scanner is a kind of safety protection equipment, mainly used to protect the workers and equipment operators of various dangerous equipment. The protective device is free and flexible, which can reduce operator fatigue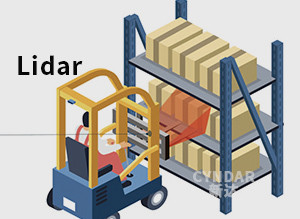 CYNDAR's safety laser scanner has stable performance and is widely used in intelligent manufacturing such as hydraulic presses, hydraulic presses, plastic machinery, industrial robots, intelligent warehousing and logistics and other professional customization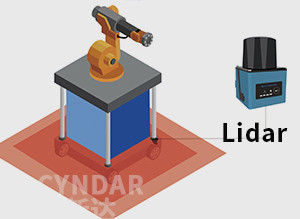 Distance protection device: CYNDAR's safety laser scanner sensor is suitable for fixed and movable protection devices. It is equipped with a protection device that does not completely enclose the danger zone. It depends on its size, function and distance from the danger zone to prevent or reduce entry into the danger zone. , Such as perimeter guards or channel guards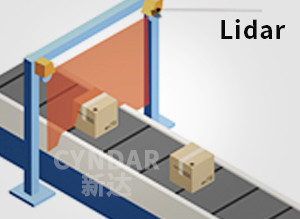 Realized by laser, high-speed measurement of the height, width, thickness, etc. of the target at a distance of 0.1m to 20m. Due to the detection through the "height", the same color workpiece can also be stably detected

Factory and product content