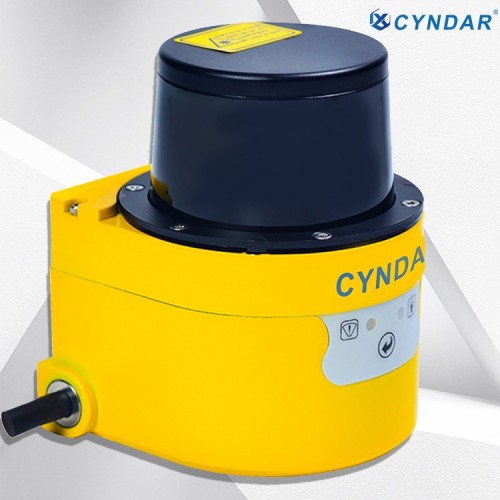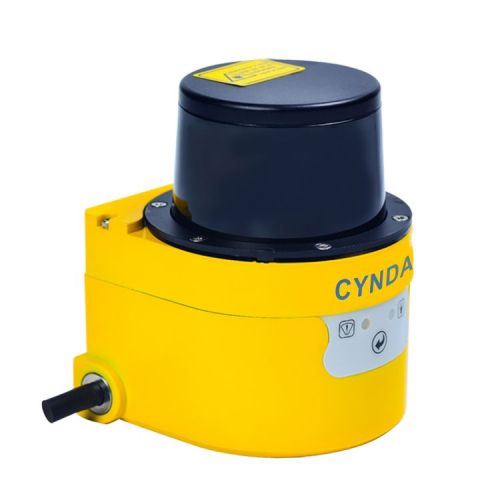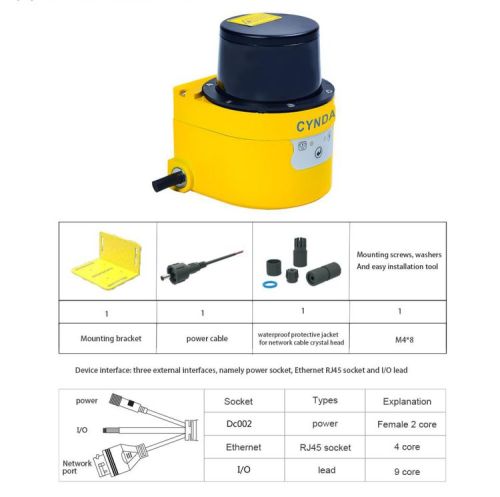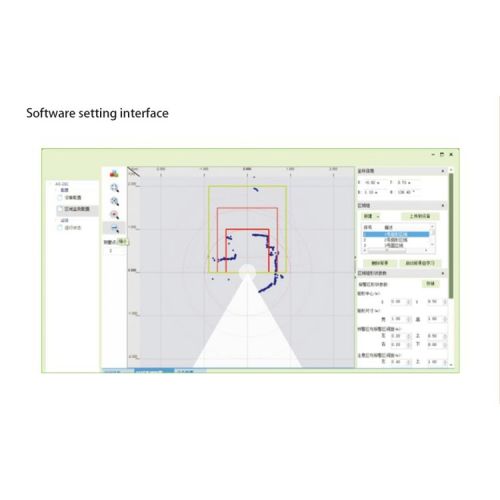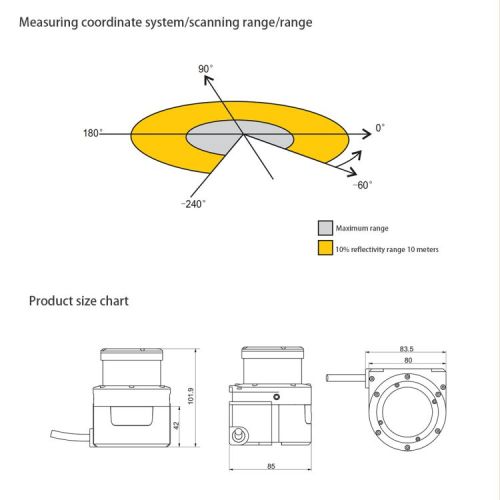 industrial safety laser scanners 2D safety sensors protect the palm of the body
Item specifics
working environment

Indoor / outdoor
light source

Infrared laser (905nm)
Scanning angle range

300 °(- 60°~+240 °)
Scan angle resolution

0.5°
Measuring range

0.1m~20m
Environmental illuminance range

≤ 70,000lux
Description
Laser scanner sensor characteristics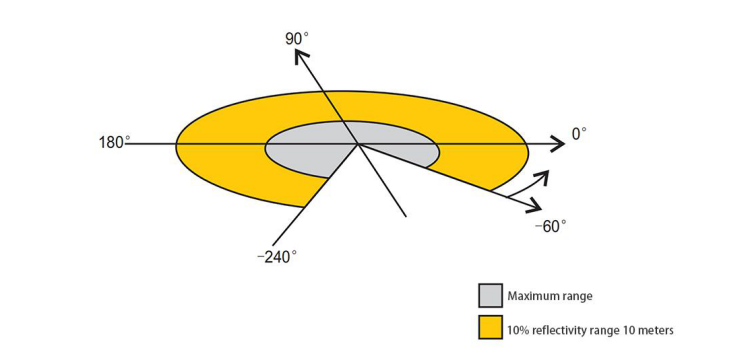 Product brochure download(PDF download)
● safety laser scanner applications are based on TOF pulse measurement technology
● Super strong ranging ability, up to 20m
●300˚ scan, extremely small angle resolution up to 0.33˚ and 0.5˚
● Very small measuring spot, can accurately detect small objects with high accuracy˚
● Anti-light interference <70000 Lux
● Nano-optical dust cover, extended service life and reduced maintenance time
● Japanese motor, long service life
● Convenient and quick multi-layer security protection area setting
● Use human eye safety protection laser, in line with standards
● With multiple interfaces: USB, Ethernet I/O
● A variety of installation methods and abundant accessories, easy to use, convenient for users to develop
● Support remote maintenance and upgrade
Safety laser scanner area monitoring function instructions and application development
TOF-20S safety laser scanner sensor has built-in area monitoring function, which can independently complete some common area monitoring applications, such as AG V obstacle avoidance, intrusion detection, target care, etc. Correct use of the built-in area monitoring function of LD TYPE can effectively reduce the complexity of the system and reduce the cost of system construction.


Working principle of laser scanner sensor

The basic working principle of TOF-20S 2d lidar scanner distance measurement is laser distance measurement based on time-of-flight measurement. The TOF-20S 2D safety laser scanner emits laser pulses, and measures the time it takes for this pulse to return after being reflected on the target surface, and then convert it into distance data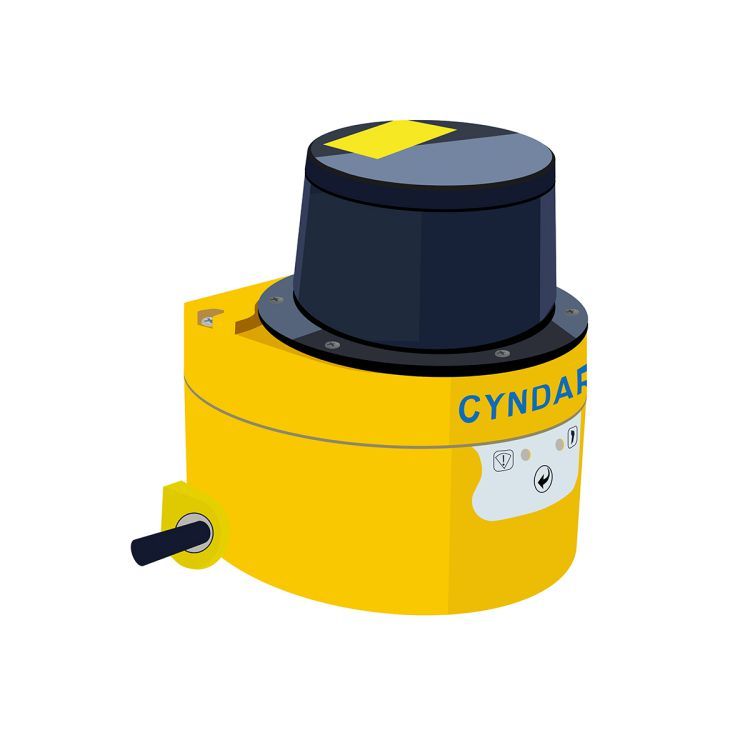 Safety laser scanner scene measurement and area monitoring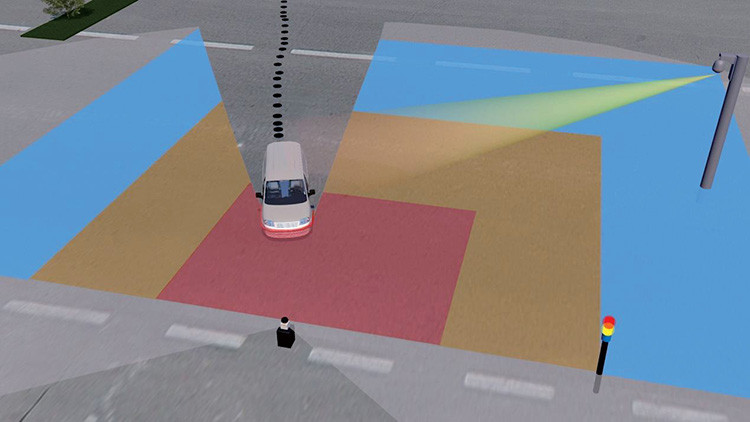 Safety laser scanner sensor 20m detection XD-TOF-05D

working environment

Indoor / outdoor

light source

Infrared laser (905nm)

Laser safety level

Class I (GB 7247.1-2012, human eye safety)

Scanning angle range

300 °(- 60°~+240 °)

scanning frequency

25Hz

Scan angle resolution

0.5°

Measuring range

0.1m~20m

10% reflectance range

15m

Built-in application

Area monitoring

Operating Voltage

9V~28V DC

Power consumption

5W

Enclosure rating

IP65 (GB 4208-2008)

weight

0.6Kg

Dimensions (L ╳ W ╳ H)

83.5 ╳ 85 ╳ 104.88 (mm)

range of working temperature

-25℃~+ 50 ℃

Storage temperature range

-30℃~+ 70 ℃

Environmental illuminance range

≤ 70,000lux

Monitoring mode

Point number monitoring/target width monitoring/contour monitoring

Number of area groups

16 groups, support self-learning background cropping, support networked cameras for video positioning and tracking of monitoring targets

Front panel buttons

Quantity, 1, signal output/start self-learning/restart device

1/O output

PNP output

Ethernet network protocol

TCP/IP

Ethernet rate

10/100Mbps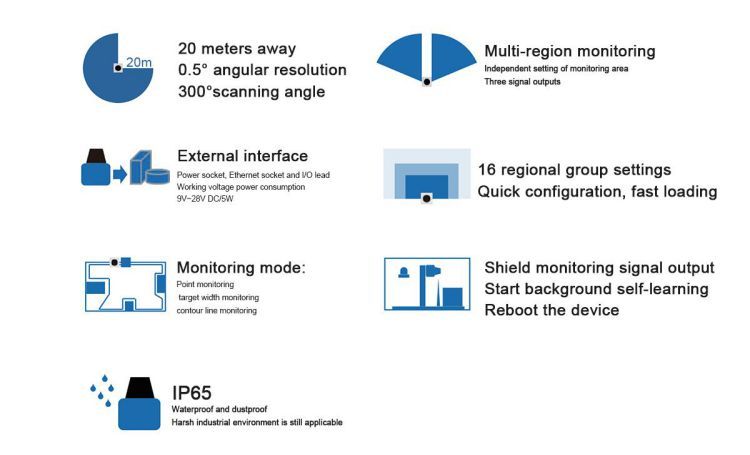 TOF-20S accessories and interfaces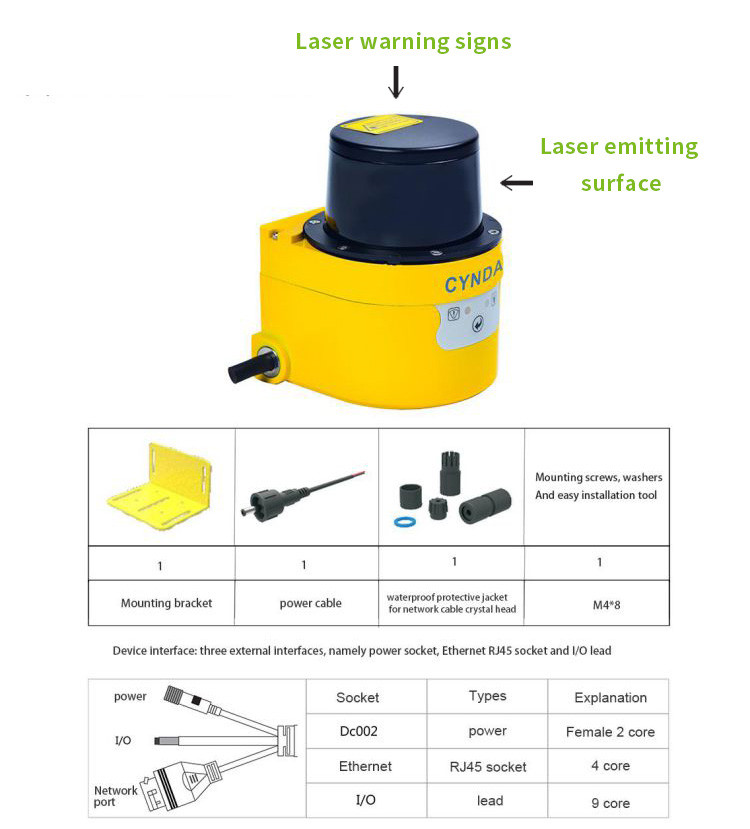 TOF-20S safety laser sensor product size

Measuring coordinate system/scanning range/range
In the factory setting, the original working scanning range of TOF-20S is the device scanning range of 300 °, the scanning start angle is-60 °, and the scanning end angle is 240 °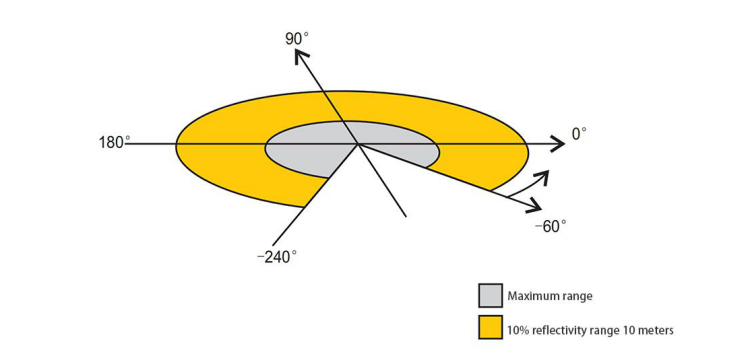 TOF-20S software setting interface

For detailed usage of FILPS, please read the "Lidar Diagnosis and Configuration Software (FILPS) Manual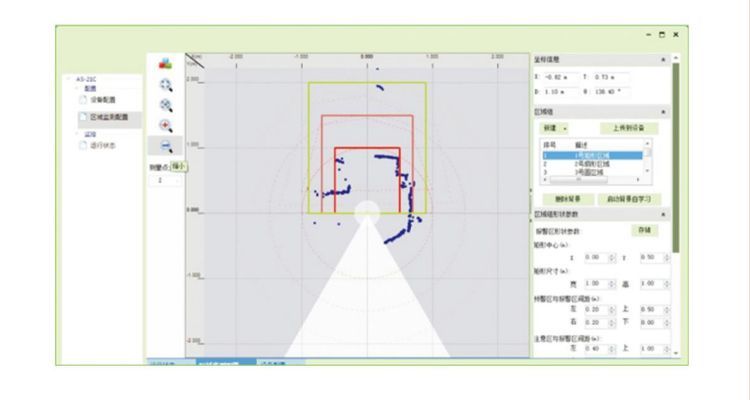 Product application scenarios and others

In the factory setting, the original working scanning range of the TOF-20S laser scanner sensor is the device scanning range of 300 °, the scanning start angle is-60 °, and the scanning end angle is 240 °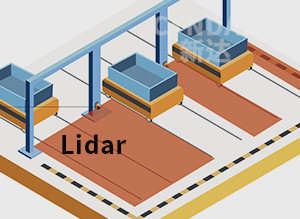 uses of 2d lidar sensors: laser scanner safety sensor, as a professional protective equipment in the industrial production industry, is widely used in stamping equipment, automated machinery, automated welding lines, shearing equipment and other industries. Its main function is to effectively prevent safety accidents and protect enterprise production and employees' personal safety. Therefore, when choosing a laser scanner safety sensor product, you must first consider the performance and quality of safety laser scanner applications. On the basis of reliable quality and excellent performance, choose low-cost manufacturers and brands.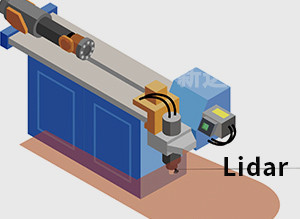 Area protection, access prevention
The safety laser scanner sensor can prevent accidental objects or people from operating hazards in dangerous areas. These safety devices can be firmly installed to avoid damage or potential impact, while protecting simple or complex molding areas.
The scanner allows vertical installation to detect any undesirable entrances into the hazardous area.
This is ideal for locations where the light curtain cannot be installed effectively.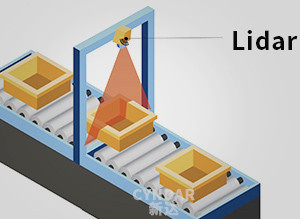 Area protection, piece counting, access prevention
The series of safety laser scanners are designed for object detection, part counting, position determination, check shape, contour or size. The monitoring arming conditions are set through the I/O input terminal, and the monitoring result is output through the TCP network message, and it is also output in real time through the I/O output terminal of LD TYPE.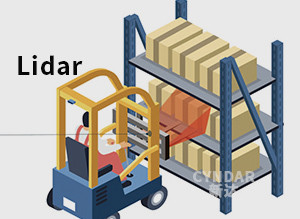 Industrial mobile robots must have the ability to safely and efficiently navigate an increasingly complex and ever-changing environment.
They must be able to perceive the obstacles ahead and make immediate decisions on how to avoid them to achieve this goal. For example, a frozen food delivery colleague often accidentally bumps into the vicinity before transporting frozen food. People hope that mobile robots can efficiently complete tasks without collisions.
Factory and product content