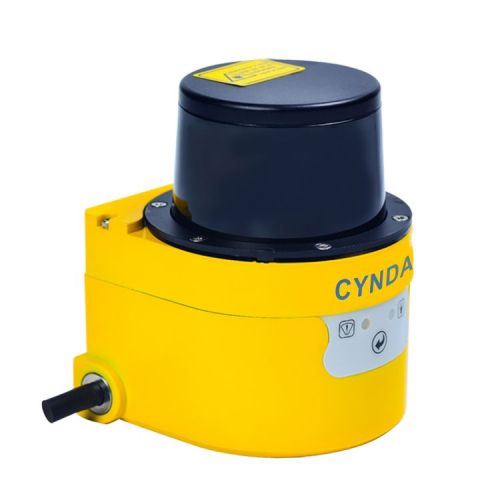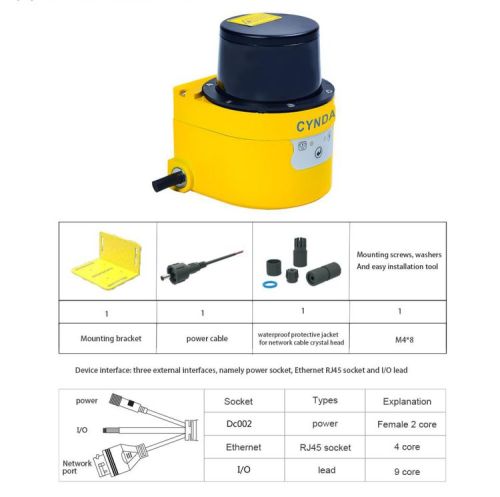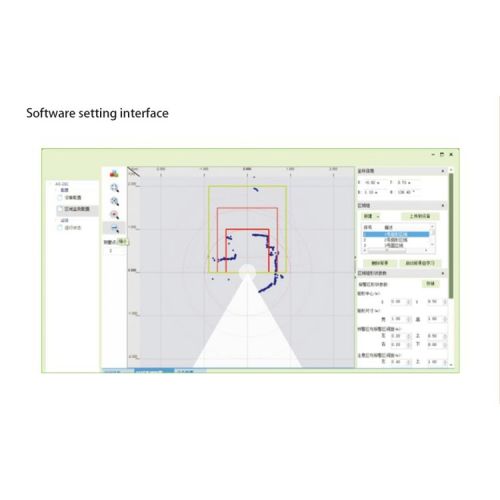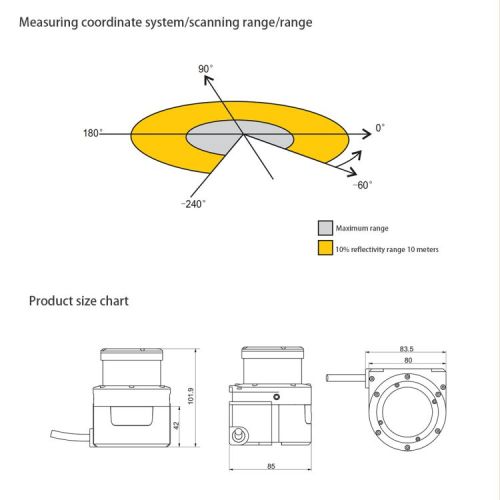 laser scanner eye safety 2d laser scanner sensor for cutting machine area protection
Item specifics
working environment

Indoor / outdoor
light source

Infrared laser (905nm)
Scanning angle range

300 °(- 60°~+240 °)
Scan angle resolution

0.5°
Measuring range

0.1m~20m
Environmental illuminance range

≤ 70,000lux
Description
2d laser scanner sensor safety area scanner can be used for road vehicle detection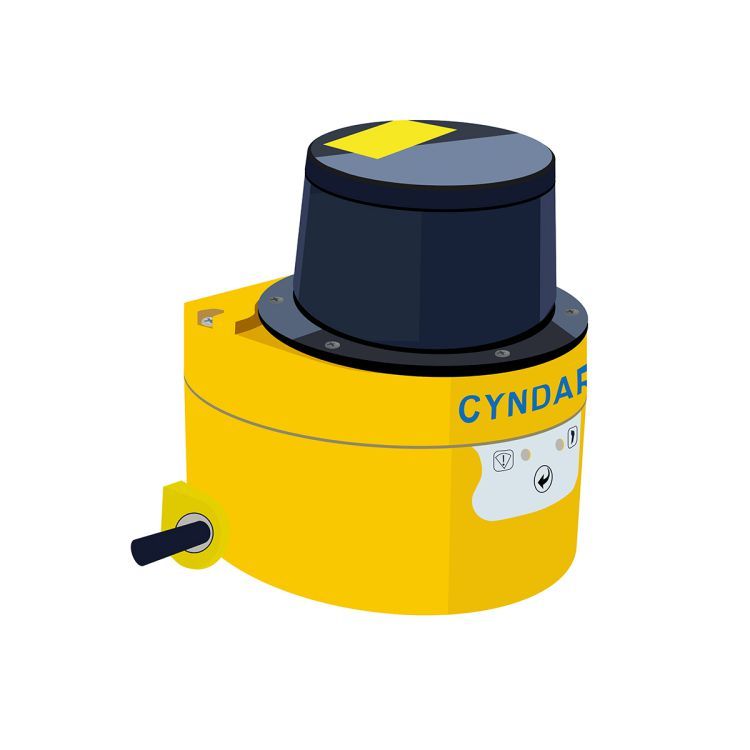 In modern factories, people and machines work together on some potentially dangerous mechanical equipment, such as stamping machinery, shearing equipment, metal cutting equipment, automated assembly equipment, automated welding lines, mechanical transmission and handling equipment, hazardous areas (toxic , High pressure, high temperature, etc.), it is easy to cause personal injury to personnel. The safety laser radar scanner can be set up safety protection in these areas to protect the safety of personnel

TOF-20S safety lidar sensor working principle
The basic method of the area monitoring function is "area group + monitoring mode:" bind a monitoring mode to an area group to form a "monitoring area group;" after the monitoring area group is "activated", it starts to work, and measures data on the scene Perform processing to generate different "monitoring signals," which are output through TCP messages and I/O output ports; multiple activated monitoring area groups can work at the same time; the final output monitoring signal can also be forced to control.


TOF-20S safety laser sensor has multiple echo analysis capabilities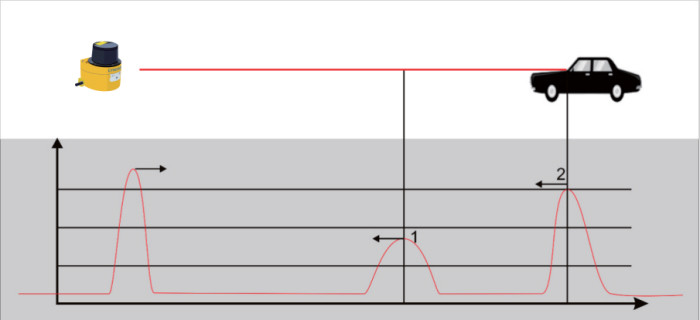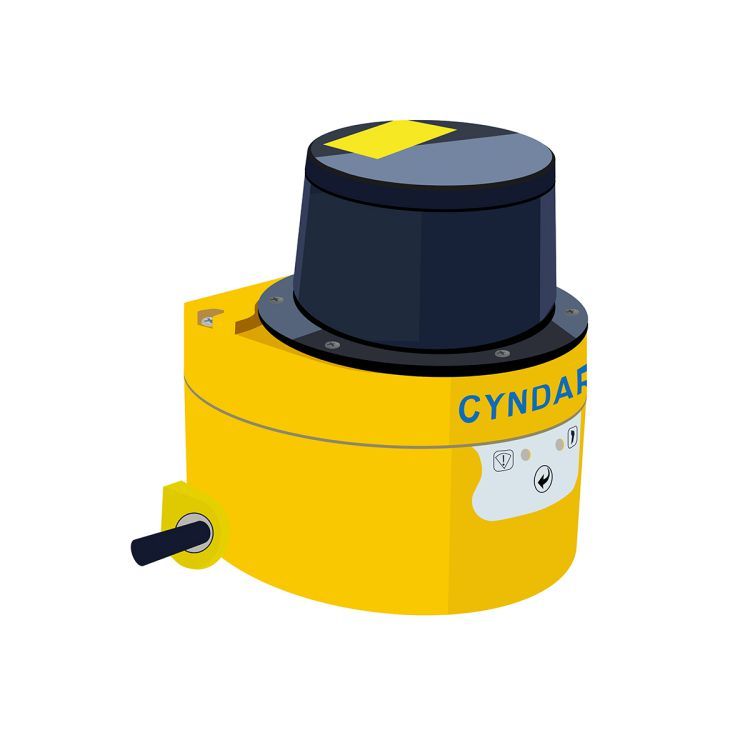 Two-dimensional laser scanner safety sensor Product manual
The laser light-emitting surface of TOF-20S Laser safety scanner sensor is an optical translucent cover, and the laser warning sign is located on the top cover of the equipment, as shown in "Laser light-emitting surface and laser warning sign".
TOF-20S Laser safety scanner is powered by the DC002 round waterproof power socket in the interface cable on the side of the device, as shown in the figure "Power socket"; the power supply voltage is required to be 9V~28V DC, and the power consumption under normal operation is 5W, the maximum The power consumption is 6W, please provide power according to the above standards when using.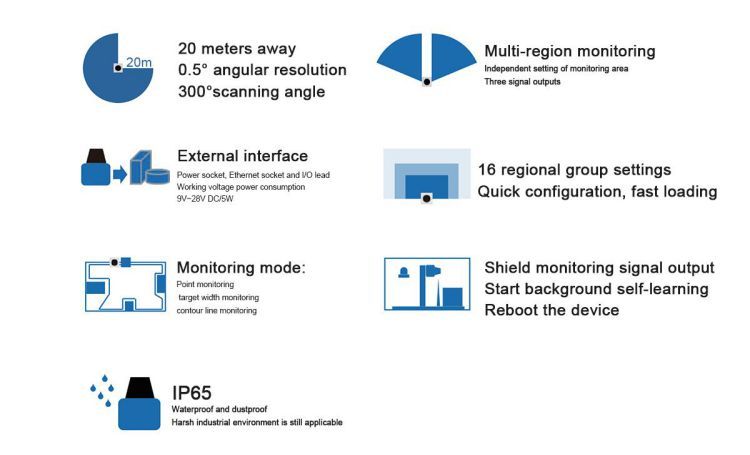 Safety laser scanner sensor 20m detection XD-TOF-05D

working environment

Indoor / outdoor

light source

Infrared laser (905nm)

Laser safety level

Class I (GB 7247.1-2012, human eye safety)

Scanning angle range

300 °(- 60°~+240 °)

scanning frequency

25Hz

Scan angle resolution

0.5°

Measuring range

0.1m~20m

10% reflectance range

15m

Built-in application

Area monitoring

Operating Voltage

9V~28V DC

Power consumption

5W

Enclosure rating

IP65 (GB 4208-2008)

weight

0.6Kg

Dimensions (L ╳ W ╳ H)

83.5 ╳ 85 ╳ 104.88 (mm)

range of working temperature

-25℃~+ 50 ℃

Storage temperature range

-30℃~+ 70 ℃

Environmental illuminance range

≤ 70,000lux

Monitoring mode

Point number monitoring/target width monitoring/contour monitoring

Number of area groups

16 groups, support self-learning background cropping, support networked cameras for video positioning and tracking of monitoring targets

Front panel buttons

Quantity, 1, signal output/start self-learning/restart device

1/O output

PNP output

Ethernet network protocol

TCP/IP

Ethernet rate

10/100Mbps
TOF-20S accessories and interfaces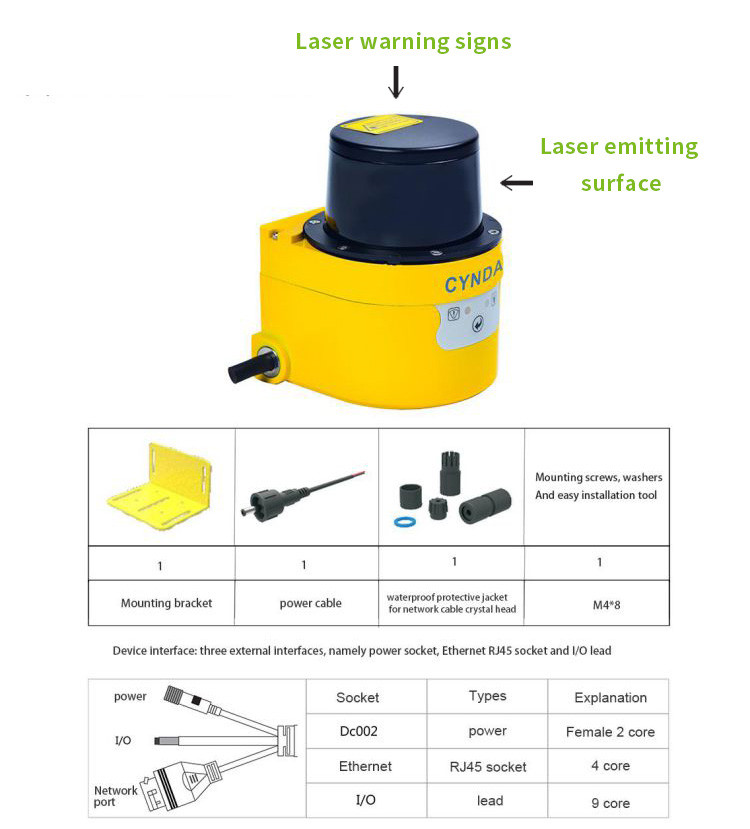 TOF-20S safety laser sensor product size

Measuring coordinate system/scanning range/range
In the factory setting, the original working scanning range of TOF-20S is the device scanning range of 300 °, the scanning start angle is-60 °, and the scanning end angle is 240 °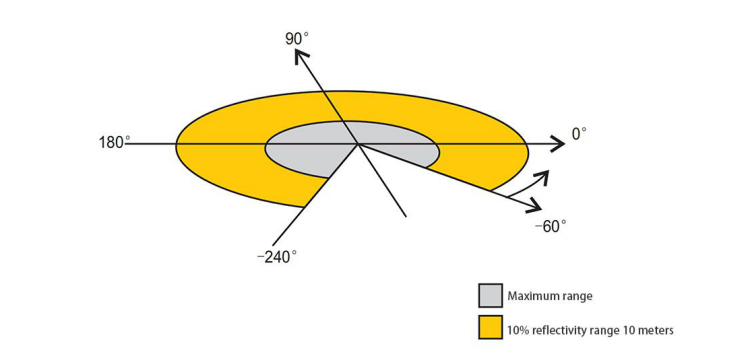 TOF-20S software setting interface

For detailed usage of FILPS, please read the "Lidar Diagnosis and Configuration Software (FILPS) Manual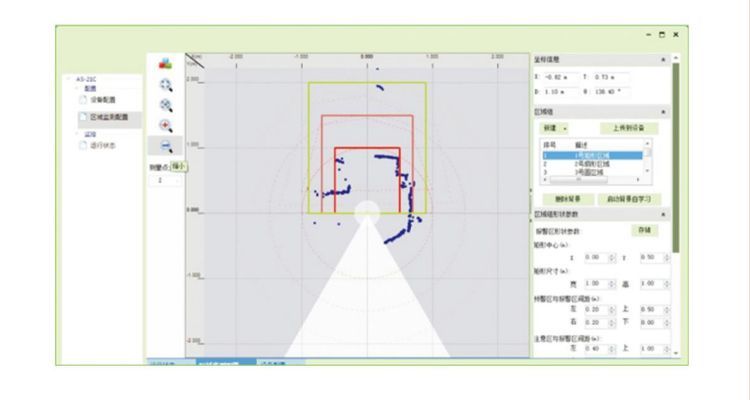 Product application scenarios and others

TOF-20S Safety laser sensorcan set 16 area groups, three groups of independent switches, NPN output, suitable for a variety of shape detection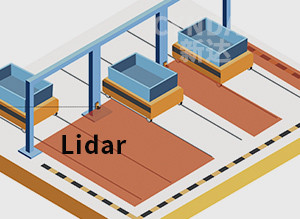 Safety laser sensor application device, used for filter press protection device, install a safety laser sensor at one end of the filter press, the safety laser sensor is connected to the safety laser scanner control system, and the safety laser scanner control system is connected to the electrical control of the filter press Cabinet, safety laser scanner protection device, the operator safely cleans the residual filter cake, and the maintenance personnel safely repairs, the laser scanner protection device is connected to the electrical control cabinet of the filter press, if the light of the protective net is blocked, the filter press will automatically stop through the electrical control system Operation, to ensure that operators and maintenance personnel are not harmed, easy to use, to ensure the safe operation of the filter press, thereby improving production efficiency.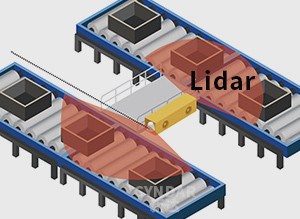 All kinds of mechanical equipment, most of which have transmission components such as gear rotation mechanism, belt rotation mechanism, screw and nut transmission mechanism, chain sprocket, coupling, etc. These mechanisms are rotating bodies that move at high speed. If part of it is twisted in, it will cause injury accidents and even the tragedy of crashes and deaths. Therefore, sensitive and reliable protective devices, such as safety laser scanner sensor devices, must be installed on the dangerous parts of the transmission mechanism to ensure personal safety. Safety.

Safety laser sensors play an important protective role in automation and machining industries. Common applications include punch safety laser radar sensors, hydraulic 2D safety laser sensors, bending machine safety laser scanner sensors, and grinding and cutting machine plane detection safety laser scanners.
CYNDAR sensor is selected as safety laser sensor, factory direct sales, good quality, low price, and good service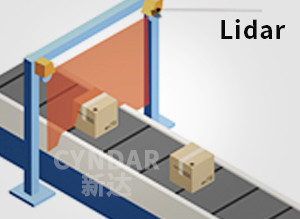 Safety laser sensors are widely used in the automotive industry, packaging industry and rubber industry, for channel entrances and exits, protection of dangerous areas, protection of peripheral areas of large equipment, and access protection of specific areas, etc.

Factory and product content