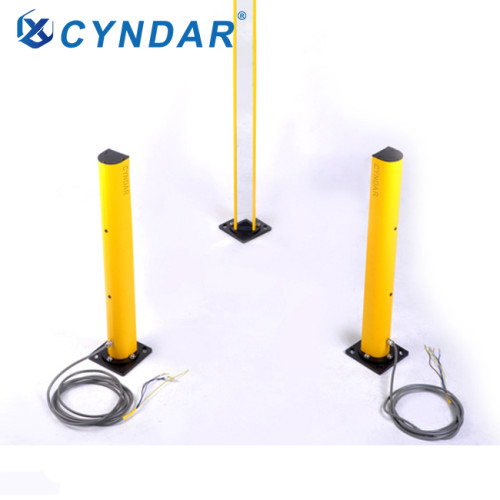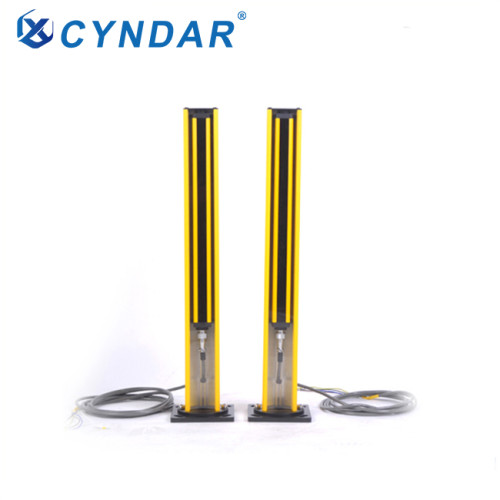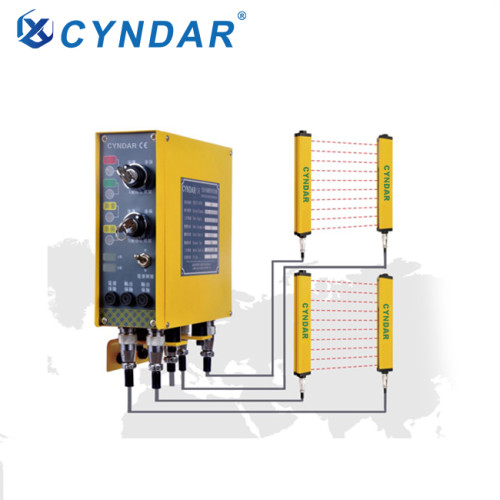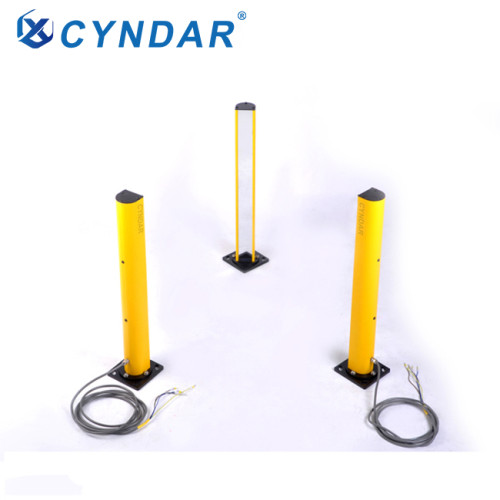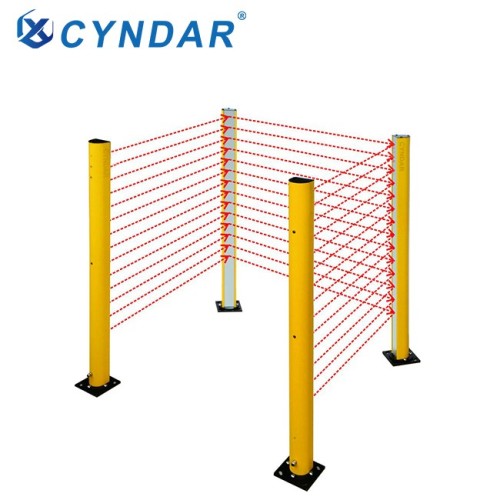 Intelligent area protection safety light curtain mirror column equipment column
Item specifics
Ambient temperature

20℃, RH≤85%
Response time

<15ms (including controller)
Relay life

≥1 million times (replaceable)
Description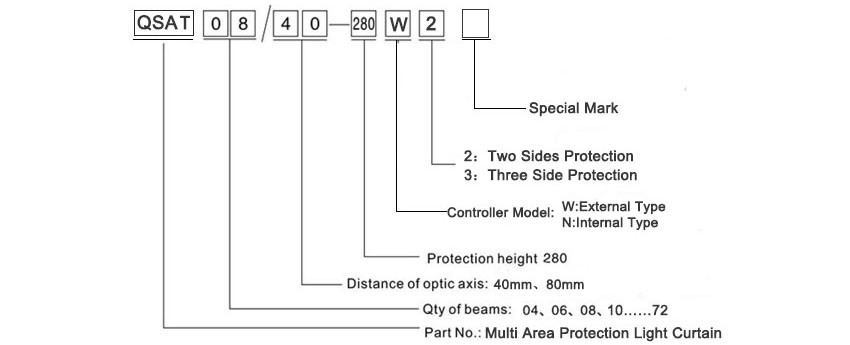 The safety light curtain equipment capable of protecting multiple sides at the same time, including a base, is characterized in that: a light curtain transmitter and a light curtain receiver are arranged on the base, and an Intelligent area protection safety light curtain mirror column equipment column is arranged on the base. There are several reflective devices that can reflect the light emitted by the light curtain transmitter and pass it into the light curtain receiver to form a light curtain protection on multiple surfaces of the workpiece.
★. The safety light curtain sensor has strong anti-interference ability.
★. The light curtain safety device has good shock resistance.
★. Convenient wiring and easy installation.
★. Dual independent transistor output.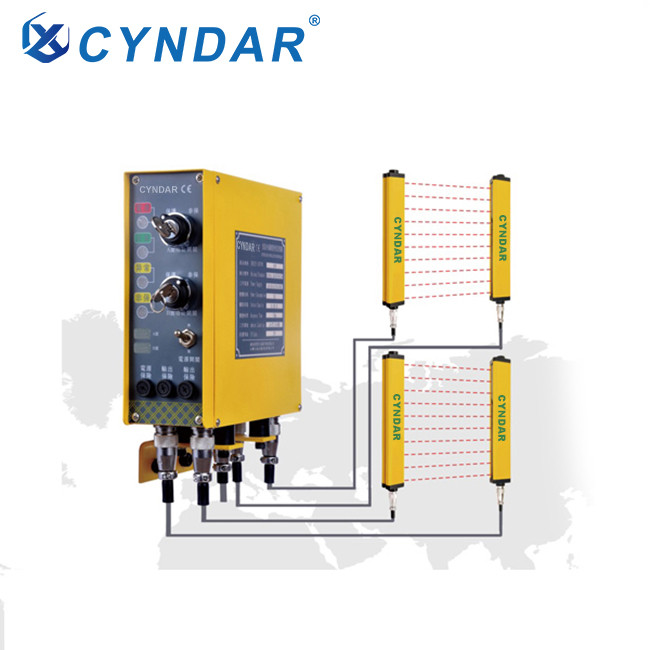 safety light curtain operation method

1) Check whether the laser safety light curtain is firmly fixed on the equipment to be equipped. Whether the transmitter and receiver of the light curtain sensor are in a plane, and the protection area bordered by the transmitter and receiver should be in this plane. A rectangle
2) Check whether the transmitter and receiver of safety curtains for industry are accurately assembled with their respective cables, and whether the terminal of the cable is accurately and firmly connected to the power supply and control unit
3) Power on the safety curtain sensor, and the muting safety light curtain starts self-check, synchronization and self-calibration. After about 1 second, the yellow indicator light of the transmitter is stable, and all the indicators of the receiver are off, indicating that the light curtain sensor has entered Normal working condition.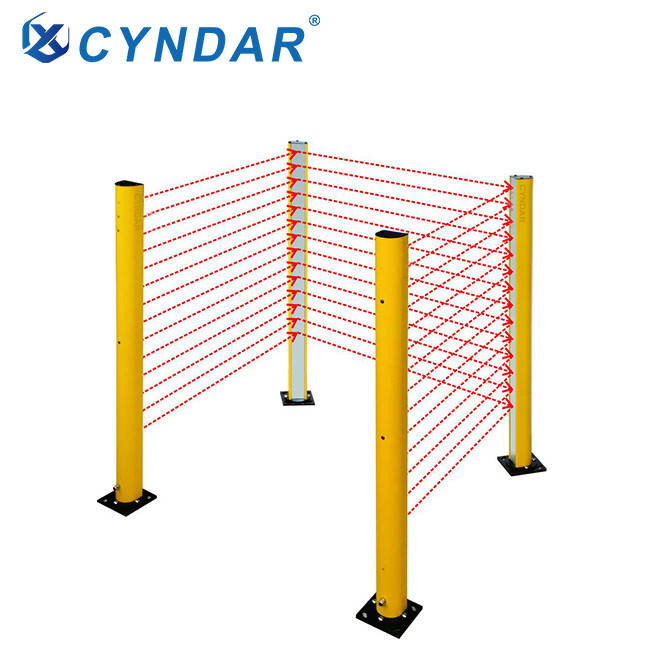 | | |
| --- | --- |
| Power supply | AC220V/110V±% 50/60Hz or DC24V |
| Output contact capacity | AC250V5A |
| Power consumption | ≤15W |
| proper temperature | -10℃~50℃ |
| Ambient temperature | 20℃, RH≤85% |
| Response time | <15ms (including controller) |
| Insulation resistance | >100MΩ |
| Dielectric strength | AC150V, 60s |
| Anti-light interference | 10000lux (incidence angle≥5°) |
| Relay life | ≥1 million times (replaceable) |
| Protection height | H=, (number of beams-1) X-ray axis spacing |
| Optical axis spacing | 40mm, 80mm |
| Protection distance | 2 sides≤20000mm, 3 sides≤15000mm |

Function and application:

Photoelectric safety protection device is what we usually call safety light curtain sensor, also known as safety protector, punch protector, infrared safety protection device, etc. The safety curtain sensor device generates a protective light curtain by emitting infrared rays. When the light curtain is blocked, the device sends out a shading signal to control potentially dangerous mechanical equipment to stop working and avoid safety accidents.